Step aside, Taipei. Kaohsiung might be second in terms of size, but it's Taiwan's best city in many areas. If you have only one day in Kaohsiung, you'll still be able to see plenty thanks to our one-day itinerary.
So buy your
travel insurance
and air tickets, and get ready to explore Kaohsiung.
Morning
Visit the Fo Guang Shan Monastery
The Fo Guang Shan Monastery is not only the headquarters of the zen Fo Guang Shan monastic order but also the biggest Buddhist monastery in all of Taiwan. The complex itself is stunning to behold, with massive Buddha statues and intricate pagodas towering over the main square. It also contains a Buddha Museum that houses relics which include the purported teeth of the Buddha.
Address: 153 Xingtian Road, Dahsu District, Kaohsiung City, Taiwan 840
Opening hours: Mon to Fri 9 am to 7 pm, Sat, Sun and public holidays 9 am to 8 pm. The museum closed every Tue.
Afternoon
Dream Mall
After your visit to the monastery, hop into a taxi and head back into the heart of Kaohsiung, where you can pause for lunch and a spot of shopping at Dream Mall, the largest shopping mall in Taiwan. The mall contains a plethora of restaurants, a cinema, and even a rooftop theme park with its own Ferris wheel.
Address: 789 Zhonghua 5 Road, Qianzhen District, Kaohsiung, Taiwan 806
Opening hours: Daily from 10:30 am to 10:30 pm
Dome of Light
After lunch, take the subway to Formosa Boulevard Station, where you'll find the Dome of Light, a massive art installation located inside the station itself. The Dome of Light is made of colored glass, took almost four years to finish and is stunning to behold. It transforms a transitory subway station into a beautiful community space.
Address: 115 Zhong Yi Road, Formosa Boulevard Station Level B1, Xinxing District, Kaohsiung City, Taiwan 800
Love Pier
From the Dome of Light, embark on a half-hour walk to the Love Pier, taking in Central Park and the Holy Rosary Cathedral Minor Basilica on the way. Situated along the Love River, Love Pier is, as its name suggests, a favorite location of local couples. Enjoy the views of Kaohsiung's skyline before heading to the nearby Yanchengpu MRT station en route to your next destination.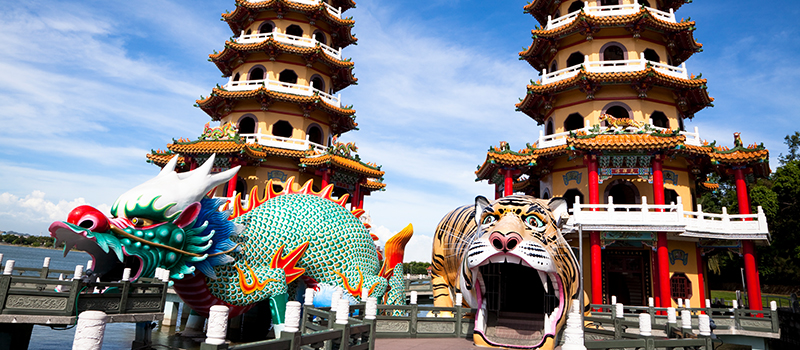 Evening
Lotus Pond
The scenic Lotus Pond is one of Kaohsiung's most celebrated attractions. This artificial lake is presided over by a series of stunning temples and pagodas, including the majestic Confucian Temple, the stately Dragon, and Tiger Pagodas and the intricate Spring and Autumn Pavilions. Give yourself a few hours to walk the length of the 1.4km-long lake and visit the more than 20 temples which surround it.
Address: 9 Liantan Road, Zuoying District, Kaohsiung City, Taiwan 813
Opening hours: 24/7
Ruifeng Night Market
When the sun begins to set, head over to Ruifeng Night Market, which is about half an hour's walk away from Lotus Pond. This bustling night market is one of the biggest in Kaohsiung, and also one of the best places to sample a variety of cheap and delicious Taiwanese street snacks, including fried chicken, bubble tea and more. It's also a great place to shop for Taiwanese-style clothes and accessories—just don't forget to bargain! Have dinner at one of the many eateries located within the market itself, or simply load up on snacks.
Address: Yucheng Road, Zuoying District, Kaohsiung City, Taiwan 804
Opening hours: Tue and Thu to Sun from 6 pm to 1 am
How much will your day in Kaohsiung cost?
As all of the above attractions are free to visit, your main expenses (other than accommodation) will be transportation and food. Taxi rides are affordable in Kaohsiung, with flag-down rates costing about 85 NT$(3.81 SGD) and 1km costing 25 NT$ (1.12 SGD). However, the cheapest way to get around is by MRT, with a one-day pass costing 150 NT$ (6.72 SGD).
All in all, you should budget at least 30 SGD to 50 SGD for a day in Kaohsiung.
Buy travel insurance
Before leaving Singapore, protect yourself with a travel insurance policy from HL Assurance so you can enjoy your trip with peace of mind. If you're a frequent traveler, an annual travel insurance policy is your best option.
By Joanne Poh
Disclaimer: All info contained herein is intended for your general information only and is not a substitute for insurance advice. If you have a specific question, please consult our insurance experts at 6702 0202.