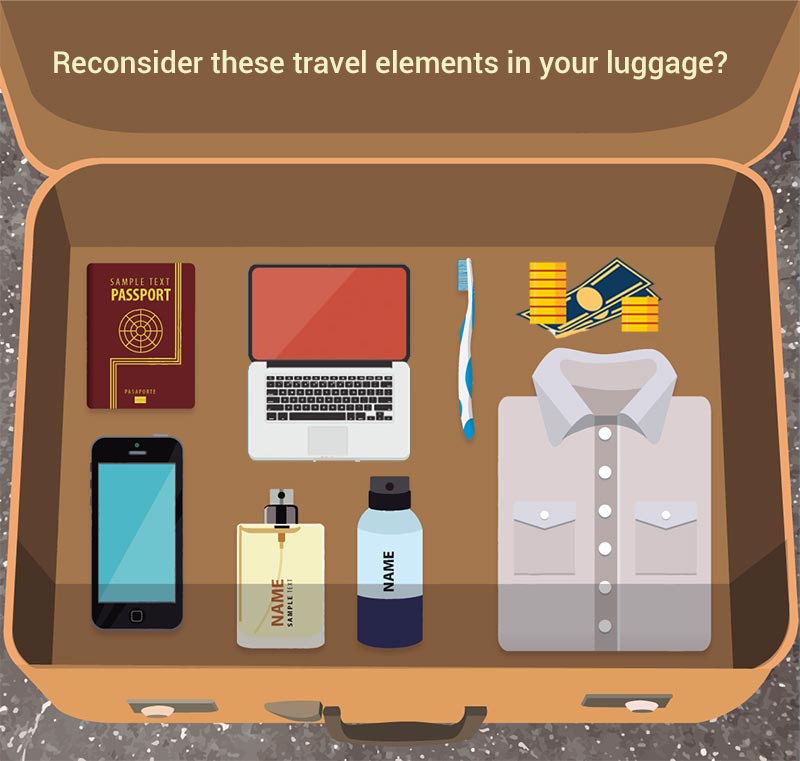 It can be tempting to cram everything into your luggage while traveling. After all, there's only so much space in the overhead compartment; and it does mean an easier time at the security gate of Singapore Changi Airport. Some items, however, should always be on you:
1. Cash 
Never place cash in your luggage. If you insist on doing so, keep it to a small amount.
The main reason is lost luggage. In the event that your baggage is delayed or missing, you don't want to be in a foreign country without cash. Remember that in some cases, your luggage may be stuck in another city for several days. In the worst case scenario, it may even be lost permanently, with all the money in it.
Also, remember that not all airports are safe and honest. Security staff may be tempted if they see a large amount of cash while checking your bag. You will have a difficult time proving theft in such a situation.
With almost all travel insurance policies in Singapore, the maximum amount you can claim for lost cash is $250. However, our single trip travel insurance, Travel Protect360 can cover you for up to $500 in lost cash. Even then, we advise you to keep your money with you at all times.
2. Ensure you are well insured with a comprehensive travel insurance
Travel Protect360, an online Singapore travel insurance insures you for up to $1,000 for delayed luggage and up to $7,000 for loss of personal effects. You will also receive unlimited coverage for medical evacuations, and up to $500,000 for overseas medical expenses and Singapore medical expenses up to three days after you returned from a trip. It's so easy to acquire. You can obtain our online travel insurance with instant policy confirmation in a few minutes before boarding the plane.
Fret not if your travel insurance policy goes missing accompanied by your luggage, our travel insurance comes with a daily 24-hour worldwide emergency assistance hotline to assist you in any state of confusion or mishaps. The hotline can be viewed via the instant travel insurance policy confirmation short messaging service (SMS) upon policy application.
3. Powdered foodstuffs in paper wrapping
If you must bring powdered foodstuffs, such as milk powder, curry or other spices, always transfer it into a small bottle. Do not leave it in a paper wrapping, as transit security is required to inspect such items. They may cut into the paper wrapping if it cannot be resealed the powder will be discarded (or hastily repacked, and go all over the rest of your luggage!).
4. Don't put ALL your clothes into the luggage
If your luggage fails to arrive at the landing destination, you will probably be forced to buy new apparel, along with new underwear, new socks, and so forth. This can result in wasted money from some impromptu shopping.
As a rule of thumb, always carry a spare set of socks and underwear in your carry-on bag. This will see you through the day if your luggage is delayed or goes missing.
5. Identifying documents 
Avoid putting documents with sensitive information inside your luggage. This includes personal work letters, or anything with picture identification, or documents that detail your national registration identity card (NRIC) number, bank account, address, and so forth. Should your luggage go missing, these documents will heighten your risk of identity theft.
Similarly, if you store sensitive information in your laptop (point 2 above) and put it in the luggage. If your luggage is missing for several hours or more, criminals would have ample time to hack your device or gain access to your bank account.
6. Items that other travelers or friends ask you to carry for them
We know it can be awkward to turn down your friends, but we advise against packing anything in your luggage that is not known to you. This is doubly true for fellow travelers or new friends, whom you have just met on your trip.
This is to avoid becoming a "blind mule". Someone may slip something illegal into a pouch or jacket, and then request to use your suitcase because their luggage is overweight. Illegal items are anything from animal parts to drugs (which, above a certain weight, carry the death penalty if you bring them into Singapore).
Should you be caught at customs, the smuggler will disavow that the item is theirs (or that they even know you).
7. Jewelry and expensive watches
Jewelry should not be placed in your luggage for the same reason as cash (see point 1). These items are easily stolen, and run the risk of disappearing with lost luggage. In general, it is best not to travel with valuables.
8. Keys and keycards
We know it's annoying to take these out of your pockets at the immigration security check. However, do not pack your house or car keys, or condominium keycard into your luggage. Aside from the obvious inconvenience if your luggage is lost on the way home, you may be granting a criminal access to your home or vehicle.
If you do lose these items in transit, be sure to have new locks made as soon as possible.
9. Undeclared medication
Do not pack medication (even common ones such as Panadol) without declaring it. Some countries are strict with drug control policies and will confiscate them. This may not have anything to do with how dangerous the drug is; the country may simply have laws against certain drug imports.
This can be a major cause of inconvenience or even danger, should your asthma or heart medication be confiscated. Always ensure that your medication is declared before boarding the flight.
On a related note, vital medication such as hypertension pills should be kept on hand. You will lose access to these if your luggage is lost.
10. Soil, seeds, animal parts, and other organic substances
Organic items may be confiscated upon arrival, and many countries have strict policies regarding the organic substances and living things without health certificate from the country of origin to certify that the living things are free from harmful micro-organisms.
This is out of fear of contamination from foreign organisms. While exotic animal parts are obviously banned (in order to protect endangered species), note that even fairly common animal products may get you fined; embalmed snakes or birds, or animal teeth, may also prohibit. Read the Singapore customs laws carefully before packing your baggage.
11. Your laptop
Luggage needs to be loaded and unloaded fast at an airport. A single plane can carry several thousand suitcases, and the ground crew often has less than 40 minutes to fully load or unload the cargo hold.
This means that your luggage is often tossed or thrown, and something as fragile as a laptop is easily broken. We know a portable tablet or laptop is inconvenient to put it in the tray at the security check, but that is still better than losing your S$2,000 laptop and perhaps all its data.
(Plus, how will you work or Skype without it?)
By Ryan Ong
Disclaimer: All info contained herein is intended for your general information only and is not a substitute for insurance advice. If you have a specific question, please consult our insurance experts at 6702 0202.