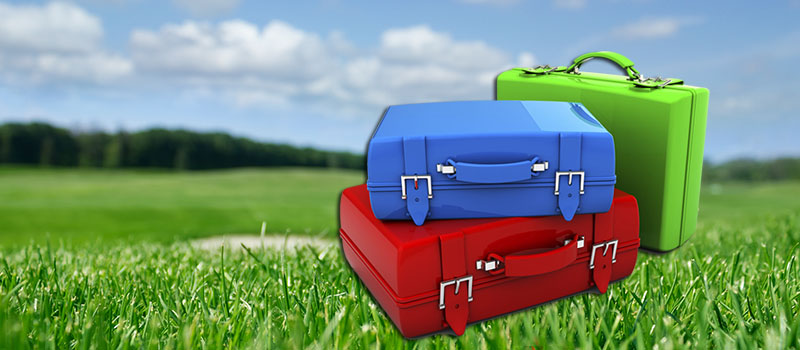 What to do if your belongings get damaged or lost during your travels? In the intricate system that is international luggage logistics, your baggage may somehow lose its way and soon become unrecoverable by the airline at fault.
When this happens, chances are you won't be seeing your lost belongings ever again, meaning that your trip might be taking a turn for the worse as your children – if you're traveling as a family – may find themselves without their beloved toys and essentials, or as a solo traveler you might be forced to take your holiday with whatever you could salvage from your hand luggage and whatever you had on your back at the time.
Although this might seem like one of the worst bits of news you could have ever received while on a holiday or business trip, before going about lighting torches, let's have a look at some of the options available to you if your belongings got lost or damaged, and how travel insurance can help alleviate these situations.
What should I do if the airline lost my belongings?
After the piece of luggage has been missing for the 21 day waiting period, airlines will finally admit to having lost your baggage. According to the Montreal Convention, and previously the Warsaw Convention, airlines are liable to cover for the missing baggage and its contents.
In order to initiate your claim, airlines will want a complete list of the contents of the luggage with their approximate monetary value.
Keep in mind that:
• The worth you assign to your belongings might not be in line with the value assigned by the airline itself.
• To support your claims, airlines might ask for the purchase receipts of the contents of the luggage.
• Airlines will always pay you less than the actual purchase price due to wear and tear.
• Airlines and travel insurance won't usually cover the loss of items listed as "valuables" or "perishables" under their terms and conditions. Expensive items such as jewelry might be lost for good unless you had them covered by a homeowner insurance provider.
It's worth noting that some airlines might cover some valuables under their excess valuation protection service. Whether this extra fee is worth it depends on how protected you actually want to be.
After a case has been assessed, airlines will offer an amount of money as compensation based on:
• The value of the items.
• The proof that you presented.
• Whether there's excess valuation protection.
After agreeing on the worth of the lost items, airlines will issue a settlement agreement and a discharge of liability.
How can travel insurance help me claim compensation for my lost belongings?
As usual, the travel insurance coverage will pick up where the airline coverage might leave off, in this case, the difference in the value of the items listed.
In order to make a claim to your insurance company and get reimbursed up to the limit stated by your plan or policy, you'll have to present proof that the airline lost your luggage in the form of a baggage loss report issued by the airline itself.
Aside from the flight details and baggage loss report, your travel insurance company will also want you to substantiate your claim with the following proof:
• The purchase receipts of the items listed to substantiate your claim,
• Photos of the objects themselves to prove ownership, if available.
• A copy of the settlement agreement, since insurance providers will also want to know the amount that was already paid by the airline.
What should I do if the airline damaged my belongings?
First of all, you'll want to show the damage to an airline inspector, as leaving the airport might void any right to claim for damaged luggage. If you have some before photos, use them to substantiate your claim, also take some after photos as they may come in handy later on when you take this up with your travel insurance company.
Although airlines might not cover normal depreciation, any major damage to your luggage will definitely be considered. Once the report is made, ask for a copy as you'll need it for the insurance company.
Depending on the airline, you may be offered:
• Reimbursement on the costs of repair, for which you'll need to send them your receipts.
• The option to repair your luggage at specifically authorized luggage repair shops.
Lastly, you can also take this up with your insurance company. As usual, you'll have to present your flight details and the damage report. You'll also need to present the original repair bills and photos of the damage done to your luggage (before and after if it's a possibility).
What should I do if my belongings were stolen from me on my trip?
As long as you didn't leave your belongings unattended, travel insurance should usually be able to cover this. To be eligible for reimbursement, you'll have to report the theft within 24 hours of the occurrence; always remember to get a copy of the report so you can present it as proof to the insurance company.
Keep in mind that travel insurance plans usually cover items that were stolen while you physically had them in your possession. Any items left behind or stolen while left unattended will be your responsibility.
So, whichever the situation, remember that travel insurance coverage can save you from the headaches of getting involved in a dispute with your airline. Keep in mind that if you're planning on taking the occasional trip, single trip insurance will be enough to protect you from lost or damaged belongings during the length of the journey, while if you're a frequent flyer, hiring multi-trip insurance may be your best option.
This article is brought to you by Go Bear.



Disclaimer: All info contained herein is intended for your general information only and is not a substitute for insurance advice. If you have a specific question, please consult our insurance experts at 6702 0202.