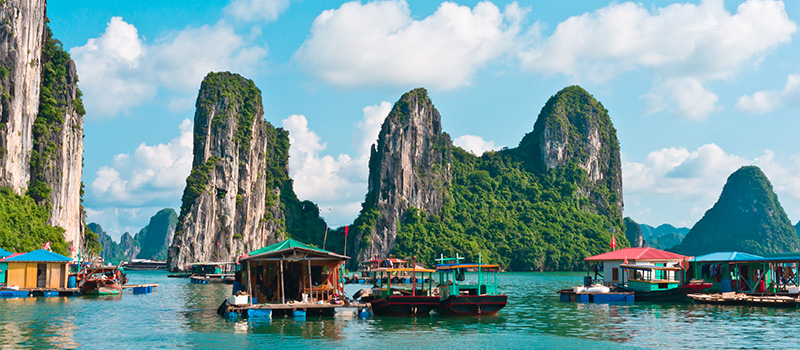 Despite a growing number of tourists to Vietnam, the Southeast Asian nation remains fiercely authentic. Whether you're looking for spring rolls in town, trekking in the foothills or sitting alongside hip urban dwellers at a trendy cafe, that distinct flavor of Vietnamese charm is unmistakable.
Whether you're about to travel for the
first time to Vietnam
or an aficionado, there's always someplace new to explore. Here are five hidden destinations in Vietnam you might not know about yet.
For foodies: Vietnamese street barbecue in Hanoi
Pho isn't the only thing you can eat in Vietnam. Vietnamese barbecue, which is often enjoyed on the streets at low plastic tables, is delicious and fun when shared with friends.
Meat, seafood, and vegetables are cooked on aluminum foil in melted margarine. Many local youths sit down to a street barbecue session in the wee hours of the morning after a night out at the bars or clubs.
If you're in Hanoi, one of the best places to experience Vietnamese barbecue is Cat Linh Dong Da, a street that has been nicknamed "BBQ Alley" or "BBQ Chicken Street".
At dinner time, a flurry of barbecue shops comes alive, many with outdoor seating. Pick a few cuts of pork, shrimps, tomatoes and spring onions, and wash them down after cooking with a cold mug of Hanoi Beer.
Address: Cát Linh Đống Đa, 10 Lý Văn Phức, Cát Linh, Đống Đa, Hà Nội
Opening hours: 18:00 till late
For amazing views: Marble Mountain in Da Nang
There are beautiful views aplenty in Vietnam, but one of the most notable can be enjoyed from Da Nang's Marble Mountains.
Composed of five hills made of marble and limestone, the mountains are littered with caves and tunnels, many of which have been adorned with intricate Buddhist shrines.
If you make it all the way up one of the mountains, you'll be rewarded with spectacular views of Da Nang and the surrounding area. Otherwise, a trip by car to some of the caves is a more relaxing alternative.
Address: 52 Huyền Trân Công Chúa, Hoà Hải, Ngũ Hành Sơn, Đà Nẵng 550000
Opening hours: 7am to 5:30pm
For history buffs: Imperial City in Hue
The vestiges of history are highly visible in Vietnam, from ancient temple ruins to the scars of the Vietnam War. While there are many important historical cities and sites, one of the best is Hue, a city located in Central Vietnam which served as the imperial capital in the Nguyen Dynasty.
The city is home to several UNESCO World Heritage sites, but the most impressive of them all is the Imperial City, the former seat of government.
This massive complex comprising pavilions, temples, moats and more is a sight to behold. Don't miss the ornate coronation hall of the emperor or the remains of the Purple Forbidden City.
Address: tp. Huế, Thừa Thiên–Huế, Vietnam
Opening hours: 8 am to 5:30 pm
For thrill seekers: Snake Village in Le Mat
In a small village about 7km away from Hanoi's city center live many snake catchers who have been plying their trade for generations.
Snake's meat and blood are sold in various forms in Le Mat. Snake meat can be eaten as part of a multi-course dinner, although it won't be cheap, while the blood can be drunk as shots, sometimes with the snake's still-beating heart mixed in with the liquid. Definitely not for the faint of heart!
Even if you don't wish to partake in any snake consumption, you'll still get a thrill out of seeing the reptiles, which are bred on-site.
Address: Phố Lệ Mật, Việt Hưng, Long Biên, Hà Nội
For the young and young at heart: Vinpearl Land Amusement Park
Vietnam may not have Disneyland or Universal Studios, but they have Vinpearl Land, a resort and theme park in the coastal city of Nha Trang with its very own Disney-esque castle.
At Vinpearl Land Nha Trang, scream your lungs out on roller coaster rides that give you stunning views of the sea, and don't forget to bring your swimsuit so you can enjoy the water park, too.
The most scenic way to get to Vinpearl Land is to take the cable car across the Nha Trang Gulf, which is the world's longest cable car ride over the sea.
Address: Vinh Nguyen, Thành phố Nha Trang, Khanh Hoa
Opening hours: 8:30 am to 9 pm
Buy travel insurance
Before leaving Singapore on your trip to Vietnam, protect yourself with a great travel insurance policy from HL Assurance. If you're a frequent traveler, consider getting annual travel insurance that protects you all year round.
By Joanne Poh
Disclaimer: All info contained herein is intended for your general information only and is not a substitute for insurance advice. If you have a specific question, please consult our insurance experts at 6702 0202.