South Korea is most definitely the It Girl of Asia right now thanks to the Hallyu or Korean Wave, which has had everyone from Singapore to LA dancing to Gangnam Style.
The capital, Seoul, is the perfect place not just to stalk Kpop stars and snap up Korean skincare products, but also to sit down to some of the world's most flavourful meals.So book your tickets, pack your bags, protect yourself with
HL Assurance's travel insurance
and check out these five must-eat foods in Seoul.
Bibimbap
Korean barbecue aficionados should already be familiar with bulgogi, which consists of thinly sliced beef rib-eye or sirloin marinated in an aromatic mixture of soy sauce, sesame oil and more, and then grilled or fried.
There are many ways to try bulgogi, whether at a DIY Korean barbecue, on a sizzling hot plate or fresh from the kitchen.
Where to try it:
Jeonju Jungang Hoekwan (21, Myeongdong 8na-Gil, Jung-gu)
Closest Metro station: Myeong-Dong
This small, unpretentious eatery serves up what some say is the best bibimbap in Seoul. Try the dolsot bibimbap, which is brought to the table in a hot stone bowl.
Bulgogi
After the ubiquitous kimchi, bibimbap is probably Korea's best-known dish, and for good reason. This melange of rice and an assortment of vegetables and sauces is topped with a glistening raw egg and fine cuts of meat and then stirred together with chopsticks.
Bibimbap is not just delicious but also nutritious, with a typical serving containing a good 18g of protein, 83mg of calcium and 572mg of potassium, which makes it an excellent choice for those on a diet.
Where to try it:
Seocho Sariwon (1321-7, Seocho2-dong, Seocho-gu)
Closest Metro station: Gangnam
This restaurant's signature dish is bulgogi beef sirloin, which is marinated in a complex sauce containing over 12 ingredients.
Mandu
Just as the Japanese have gyoza and the Chinese have jiaozi, the Koreans have their own variation of dumplings called mandu. This juicy meat- and vegetable-stuffed delicacies can be steamed, fried or boiled, and are as popular at upmarket restaurants as they are at convenience stores.
Where to try it:
Gaesung Mandu Koong (30-11, Gwanhun-dong, Jongno-gu)
Closest Metro station: Anguk
Watch mandu being made before your very eyes as you enjoy your own in a hearty soup or hotpot.
Samgyetang or ginseng chicken soup
Samgyetang is one of Korea's most well-known traditional dishes and is reputed to be good for health, especially in summer. Ginseng is widely known for its medicinal benefits, which include boosting of energy and the immune system.
The soup contains rice- and ginseng-stuffed chicken as well as other healthful ingredients like garlic, jujube, and chestnut. A serving for one contains an entire chicken, so be prepared for a hearty meal.
Where to try it:
Tosokchon Samgyetang (5 Jahamun-ro 5-Gil, Sajik-dong, Jongno-gu)
Closest Metro station: Gyeongbukgung
This restaurant is more than 30 years old and is one of the most famous Seoul institutions for samgyetang. Their recipe contains special ingredients such as gingko and sunflower seeds. After your meal, the Metro station and the famous Gyeongbukgung Palace are a short walk away.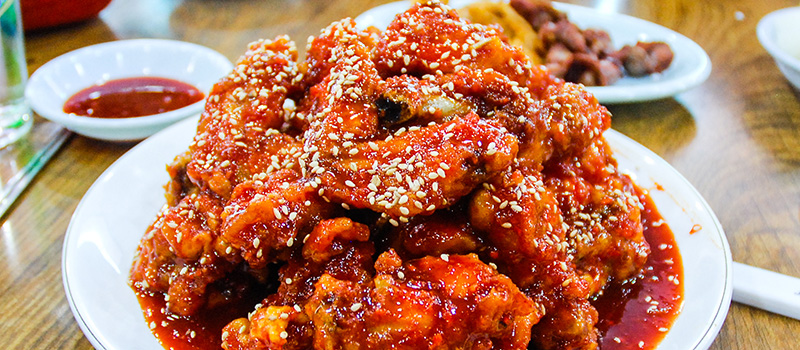 Yangnyeom dak or spicy Korean fried chicken
Forget KFC—unless it stands for Korean fried chicken, that is. The Korean iteration of fried chicken couldn't be more different from its American cousin, featuring sweet and spicy sauces and impossibly juicy meat. Usually served up in casual restaurants and with a beer on the side, Korean fried chicken is now sold in franchises all over Seoul.
Where to try it:
Banpo Chicken (1050, Banpobon-dong, Seocho-gu)
Closest Metro station: Gubanpo
Banpo Chicken has been in business since the seventies and serves up some of Seoul's most intense garlic roast chicken.
Buy travel insurance
Before you leave on your trip, don't forget to purchase a good travel insurance plan which covers overseas and post-journey medical benefits, so you'll be able to fearlessly try all types of food. Check out HL Assurance's Travel Protect360 now to stay connected with a free WiFi-Voucher and enjoy great savings of 55%. Promotion is on for a limited period only.
By Joanne Poh
Disclaimer: All info contained herein is intended for your general information only and is not a substitute for insurance advice. If you have a specific question, please consult our insurance experts at 6702 0202.