Thanks to the influence of K-pop, people from Singapore love going to Korea. No matter what your travel style is, Seoul, South Korea's capital, is an excellent travel destination. And luckily, it's also relatively cheap to visit.
Here's a suggested 5-day itinerary for under $800.
Day 1: Changdeokgung Palace
Even if you're mainly in Korea to shop and eat, there is one cultural site you should not miss, and that is Changdeokgung Palace (99 Yulgok-ro, Waryong-dong, Jongno-gu, Seoul, South Korea).
This UNESCO Heritage-listed palace complex served as a royal palace in the Joseon Dynasty, and you get to wander around its family residences, gardens and more. Entry is a very cheap 3,000 won (3.61 SGD).
As the palace is very large, it is best to allocate most of your day exploring it. A brief, touch-and-go visit will take at least 2 hours, and you can easily spend an entire afternoon there.
Day 2: Gangnam
On your second day, visit Gangnam, the neighborhood which inspired worldwide hit Gangnam Style. Get off at Gangnam Station and wander through the main thoroughfares of the area, which is peppered with skyscrapers as well as shopping malls, bars, and restaurants for the trendy young people who work in the area.
Gangnam is also home to the massive COEX Mall (513 Yeongdong-daero, Samseong 1(il)-dong, Gangnam-gu, Seoul, South Korea), where you will find shops, eateries and more.
K-pop fans will not want to miss K-Star Road (intersection of Apgujeong Rodeo Station exit 2 and Cheongdam), which is filled with artwork dedicated to the Korean wave. It is located in the Gangnam area.
You can easily spend an entire afternoon exploring Gangnam, browsing the shops and visiting its restaurants and cafes. However, if you're tired of the big shopping malls, simply take the subway over to the Noryangjin Fish Market (674 Nodeul-ro, Noryangjin-dong, Dongjak-Gu, South Korea), a 24-hour market where you can enjoy some of the best seafood in Seoul.
Day 3: Lotte World
If you are traveling with children, don't miss the Lotte World theme park (240 Olympic-ro, Jamsil-dong, Songpa-Gu, Seoul, South Korea). It's filled with rides, a folk museum, an ice skating rink and even has department stores, hotels, and a lake.
A 1-day pass costs 55,000 won (66.13 SGD) for adults, 48,000 (57.71 SGD) for teenagers, 44,000 won (52.90 SGD) for children and 14,000 won (16.83 SGD) for babies, and includes admission and rides for Adventure and Magic Island, as well as entry to the Folk Museum.
Day 4: DMZ
The Korean Demilitarized Zone or DMZ enables you to straddle both North and South Korea, and is probably the closest most visitors will get to South Korea's reclusive neighbor.
The only way to visit is to take a guided tour, which is likely to cover Panmunjeom, a village that lies on the border between the two Koreas. There are full- and half-day tours on offer. The price varies depending on the activities you pick and the number of people in the group, but in general budget about 150 SGD for a full day tour.
Day 5: Dongdaemun
Many people from Singapore go to Seoul just to shop, and Dongdaemun is one of the best places to go for chic and cheap fashion. This area is filled with shopping centers and wholesale markets hawking trendy fashion at affordable prices.
If you only have time for two shopping malls, visit Doota (275 Jangchungdan-ro, Gwanghui-dong, Jung-gu, Seoul, South Korea) and Migliore (South Korea, Seoul, Jung-gu, Euljiro 6(yuk)-ga, 18-185). You can also have inexpensive meals at food courts in the malls.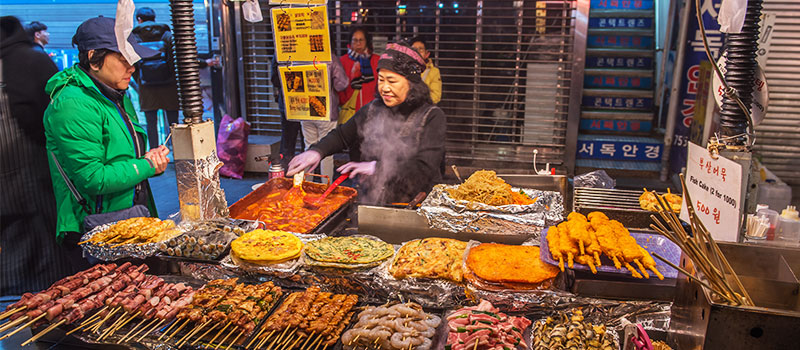 Accommodation and food
The best way to find affordable accommodation in Seoul is to use a site like Agoda.com to compare prices. You can usually find double or twin rooms in a decent 3- or 4-star hotel for about 150 SGD or less. That works out to 75 SGD per person per night.
As for food, there is no lack of affordable eateries in Seoul. If you eat at mid-range restaurants, budget about 15,000 won (18.04 SGD) per person.
The subway system gets you to almost anyplace you want to visit as a tourist. Budgeting about 15,000 won (18.04 SGD) for one week should be more than enough.
Cost of sightseeing + 5 nights' accommodation + 2 meals per day = $793.18
Buy travel insurance
Before setting off on your adventure in Seoul, check out travel insurance from HL Assurance so you can enjoy your holiday with peace of mind. If you are a frequent traveler, opt for HL Assurance's annual travel insurance policy.