Unless you plan to go camping, spending the night in the wild can often be expensive as nature resorts tend to cost more than regular hotels.
Not so at these nature resorts, which enable you to wake up to the chirping of birds at very affordable prices.
Borneo Highlands Resort, Malaysia
Address: Jalan Borneo Heights, Padawan, Kota Padawan, Kuching, Malaysia, 94200
This eco-resort is located in the jungles of Sarawak.  Their rooms and suites offer stunning views of the jungle so you can wake up to the rusting of leaves. Their in-house restaurant does not serve meat and uses organic vegetables grown at the resort.
Activities on offer include guided tours of the surrounding natural areas, a night safari, bird watching and a visit to a nearby waterfall. Attractions in the area include an organic farm, flower gardens and Kalimantan viewpoint with its breathtaking view over the Borneo Highlands.
Eco Palms House, Vietnam
Address: TT152, Lao Chải, Sa Pa, Lào Cai, Vietnam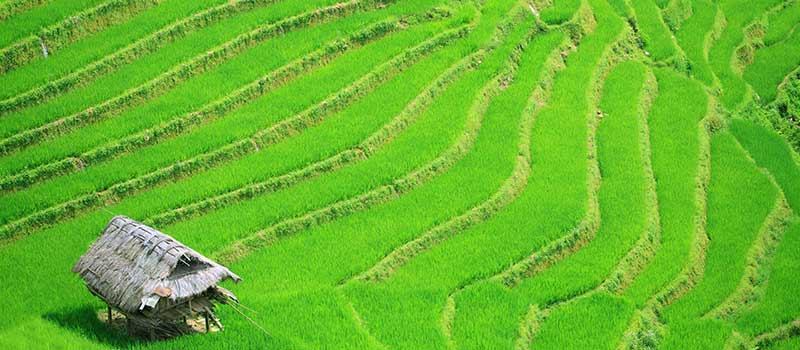 The mountainous northern region of Vietnam is a popular trekking destination thanks to beautiful landscapes marked by sloping terraces.
At Eco Palms House, which is located about 6 kilometres from Sapa in Black Mong Village, you'll marvel at breathtaking views of the mountain and valley from the comfort of a private bungalow situated in a rice paddy field.
You also have the option of purchasing a retreat package, which combines your accommodation with spa treatments. There is also a morning cooking class followed by donation of food to local children.
Eden Eco Village, Cambodia
Address: Mak Prang Kampot, 07000, Cambodia
Located in a village about 5 kilometres from Kampot, Eden Eco Village offers bungalows facing the river and a mountainous backdrop. You can also opt for huts with a garden view.
They serve Khmer food, much of it made with organic produce, at affordable prices. A bungalow is very affordable, but this is not luxury accommodation and quite a distance from Kampot, so come with an open mind and the desire to truly take things slow. To make the most of your stay, string up a hammock on your balcony, swim in the river, rent a kayak or do yoga on the outdoor deck.
Khao Sok Nature Resort, Thailand
Address: Klong Sok Phanoom Surat Thani 84250, Thailand
In Thailand to explore the vast Khao Sok Natural Park? Then check into Khao Sok Nature Resort, where you can stay in the park at an affordable price.
You will be staying in treehouses equipped with private balconies. These bungalows are built above ground around tree trunks, so you will literally be sleeping in a tree.
You'll also be able to make reservations for activities such as cooking classes, jungle trekking, waterfall visits and more.
Sahom Valley Agro & Eco Resort, Malaysia
Address: 31850 Kampar, Perak, Malaysia
The Cameron Highlands offer an excellent opportunity to escape the heat and the stress of city life. If you want to take your relaxation up a notch, check into Sahom Valley Agro & Eco Resort, where your chalet or villa suite will be located in the midst of tropical gardens or by the river.
You'll also get to participate in lots of on-site activities including harvesting organic fruits and vegetables, feeding the resident animals, learning how to cook local dishes and trying your hand at bamboo weaving.
Protect yourself with travel insurance from HL Assurance so you can enjoy nature with peace of mind.