If there's one state in Australia that is as sunny as it is stunning, it's got to be Queensland. Australia's northeastern state is home to Brisbane, the Gold Coast and some of the most beautiful beaches this side of the equator.
Here are a couple of places in Queensland visitors from Singapore do not want to miss.
Lone Pine Koala Sanctuary
Address: 708 Jesmond Rd, Fig Tree Pocket QLD 4069, Australia
The Lone Pine Koala Sanctuary is the first koala sanctuary in the world, and also the biggest. Visitors can get up close and personal with resident koalas by petting and cuddling them.
The sanctuary also hosts some other Australia animals that guests can see and interact with, such as kangaroos that can be hand-fed.
How to get there: Catch bus 430 from Queens Street Bus Station or bus 445 from Stop 41 on Adelaide Street in Brisbane. The ride takes approximately 40 minutes.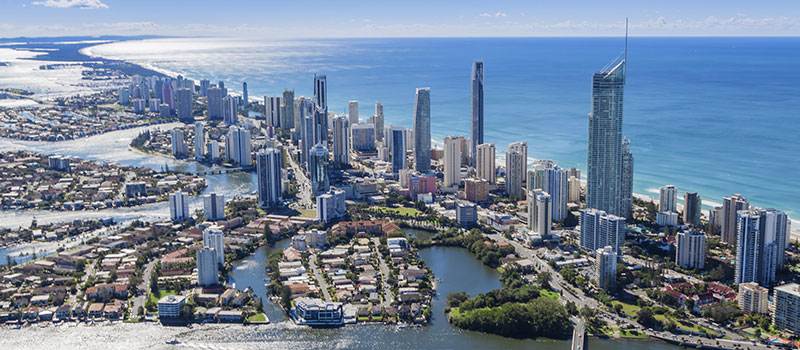 Surfers Paradise Beach
Just its name makes you want to rush there with a surfboard under your arm. Surfers Paradise is located in the City of Gold Coast and got its name thanks to its gorgeous beach, which has waves that are suitable for surfing.
If you've always wanted to take a surf class or simply dream of lying on powdery sands, now's your chance. Remember to pack your swimsuit before leaving Singapore.
As Surfers Paradise is also an entertainment district, you'll find no shortage of restaurants, bars, and clubs within walking distance of the beach once night falls.
How to get there: Take a bus from Gold Coast Airport. If you're in Gold Coast City, take the G:Link Light Rail.
Warner Bros. Movie World, Gold Coast
Address: Pacific Motorway, Oxenford QLD 4210, Australia
Gold Coast is a hotbed of theme parks, but going to each and every one is not exactly cheap. Your cheapest option is to pick the best one and then enjoy it to the fullest.
Our top pick is Warner Bros. Movie World, which brings to life characters from Looney Tunes, Batman and more. That's not all—the rides at Warner Bros. Movie World are some of the most exhilarating on the Gold Coast. If you've got nerves of steel, try the Superman Escaper, one of the scariest roller coasters in Australia.
How to get there: Catch a bus, tram or train from Gold Coast City to Helensvale Station, then transfer to bus TX7.

Kuranda
Known as the village in the rainforest, Kuranda is located near Cairns. Its most famous attraction is the Kuranda Scenic Railway, which runs on mountainside tracks and offers stunning views.
The rainforest surrounding Kuranda is UNESCO-listed, and the village itself offers rainforest walks, a river cruise as well as the opportunity to try ATV quad biking.
How to get there: Take the Kuranda Shuttle Bus from Cairns Central Shopping Centre bus bay at Qld Rail, platform 1.
Brisbane City Hall and King George Square
Address: 64 Adelaide St / 87C Roma St, Brisbane City QLD 4000, Australia
Brisbane is the capital of Queensland and also its biggest city, but don't let that trick you into thinking it's stressful or congested. It's a laid back city that's got a stunning waterfront and also offers access to wildlife.
The City Hall and King George Square are probably Brisbane's most iconic landmarks and a must-see if you are spending some time in the city. On sunny days, the square is a great place to people watch. The City Hall houses the Museum of Brisbane, where you can find interesting information on the city.
Getting there: The area is served by numerous bus and tram services in Brisbane.
Buy travel insurance
Before you leave Singapore for Queensland, stay protected with a good travel insurance policy from HL Assurance. If you travel often, opt for annual travel insurance that offers protection all year long.
By Joanne Poh
Disclaimer: All info contained herein is intended for your general information only and is not a substitute for insurance advice. If you have a specific question, please consult our insurance experts at 6702 0202.