Asia is the world's biggest continent, and you could spend a lifetime exploring it. For backpackers on a budget, it's also filled with affordable, safe and rewarding destinations that plunge you headfirst into the local culture while offering all the creature comforts you need such as backpackers' hostels, guesthouses, and Wifi.
Here are five of Asia's best backpacking destinations to explore.
Chiang Mai, Thailand
Thailand is one of the world's most popular travel destinations, and northern city Chiang Mai holds a special place in the hearts of backpackers, having gained especial popularity amongst laptop-toting digital nomads who need to get work done on the road.
Chiang Mai's historic center, known as the "walled city", is dotted with an intricate network of sumptuous temples, many built in the distinctive Lanna style. Meanwhile, Nimmanhemin Road is a hotspot for trendy cafes, bars, and boutiques frequented by the city's young and fashionable.
Free wifi is available anywhere from local noodle shops to hipster cafes. There is also a profusion of affordable guesthouses offering spartan rooms for the budget traveler. During the low season, it is usually enough to just show up and walk around to compare accommodation prices.
Dali, China
Many backpackers spend months exploring the vastness that is China, but if there is one city that is has been named a backpackers' paradise, it is Dali.
Located in Yunnan province, Dali is a popular springboard amongst both domestic and international tourists for exploring the province's most popular destinations such as Kunming, Lijiang and Tiger Leaping Gorge.
It also has some of the most affordable accommodations available in China, with backpackers' hostels and international guesthouses aplenty both inside and outside the old city.
Bali, Indonesia
Bali might be just one of Indonesia's thousands of islands, but it offers a huge diversity of experiences for every budget.
Those who are looking for inner peace should base themselves in the forested Ubud area, where you can visit elaborate Balinese Hindu temples, watch a traditional dance performance, take a yoga class or try an organic smoothie. If you're in Bali to party and hit the beach, check out the down-and-dirty Kuta or upmarket playground Seminyak.
Wifi is now widely available at bars, cafes, and eateries in Bali. When looking for affordable accommodation, consider the Canggu area, which is a peaceful seaside village that offers affordable guesthouse accommodation without the alcohol-fuelled clamor of Kuta.
Hanoi, Vietnam
Hanoi is the perfect example of a city that does not bend over backward to accommodate tourists but is still affordable and easy to visit for the budget traveler.
Delicious street food is available in abundance, tourists and locals alike sit down at low plastic tables to sip from bottles of beer, and there is no shortage of sights such as the scenic Hoan Kiem Lake and the spectacular Confucian Temple of Literature. Hanoi is also an access point for the world famous Halong Bay, which can be explored on board a scenic cruise.
The area in and around the Old City is littered with backpackers' hostels. If you're traveling with someone or don't mind spending a bit more, you can find very good deals at guesthouses in just about every neighborhood in Hanoi.
Siem Reap, Cambodia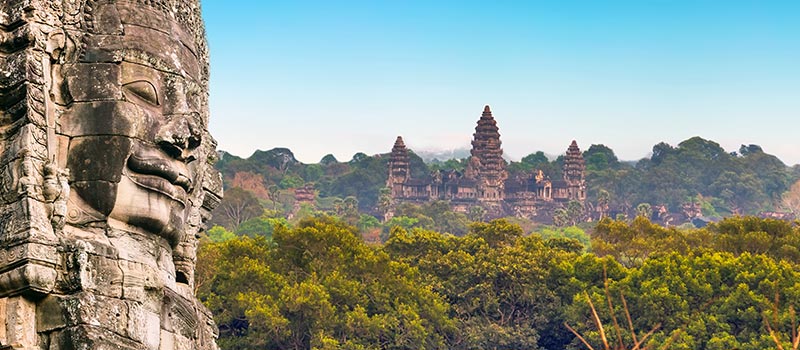 Angkor Wat is one of Asia's most recognizable historic sites, and Angkor Archeological Park is an incomparable experience that you should ideally visit over several days.
Siem Reap is the point of access for Angkor and has developed into a pleasant backpacker town that's laid back while still providing essential amenities such as affordable guesthouses, wifi services, restaurants, and bars. Despite the popularity of Angkor, basic accommodation in Siem Reap remains very affordable for backpackers.
From Siem Reap, you can charter a tuk-tuk to ferry you around Angkor Archeological Park, rent a bicycle if you prefer to explore on your own and sit down to a good meal after a long day of temple hopping.
Buy Travel Insurance
Before leaving Singapore on your backpacking adventure, protect yourself with travel insurance from HL Assurance. Refer to our website for information on current promotions and deals.