Taiwan is a great place to visit in all seasons, but summer has a special charm. It does get a little hot, even for visitors from tropical Singapore, but it's also a good time to hit the coast as well as attend some of Taiwan's many summer events.
Here are some of the best places to visit if you are planning to travel to Taiwan this summer.
Su'ao Cold Springs
Address: No. 6之4, Lengquan Road, Su'ao Township, Yilan County, Taiwan 270
It's no secret that there are many hot springs in Taiwan. But in the summer heat, you might want to bathe in a cold spring instead. Cold springs are extremely rare and said to bring lots of benefits for the skin and body.
The water in the cold spring is cool rather than icy cold, so you'll find it refreshing instead of bone-chilling. There is an outdoor public pool which is under renovation at the moment, but you can still rent a private cabin with a private pool that lets you enjoy your time there away from the prying eyes of others.
How to get there: Take the train to Su'ao Station on the TRA Yilan Line, then walk about 300m to the cold spring.
Kenting National Park
Address: Pingtung County, Taiwan
Kenting National Park is one of Taiwan's most beautiful seaside areas. The park is huge, so you might want to set aside several days to explore it and the surrounding area.
The easiest way to get around is to rent an electric scooter. Some highlights include Maobitou Park, with its unspoiled views of the ocean and dramatic rock formations, Kenting Beach which lies just beside the village, and the Hengchun night market.
How to get there: Take the Ubus service from Taipei Bus Station to Kenting in 5 to 6 hours.
Fulong Beach
Address: Gongliao District, New Taipei City, Taiwan 228
Visiting Taipei and want to enjoy the beach without traveling too far? In that case, consider a trip to Fulong Beach, which is located in Fulong Village less than 60km from central Taipei.
Every year, Fulong Beach hosts the annual Sand Sculpting Art Festival, when the beach comes alive with massive sculptures made out of sand. Although this year's dates have not been confirmed, the festival typically takes place from April to July.
How to get there: From Taipei, take the TRA train to Fulong Station. The journey takes about 75 to 90 minutes.
Maokong Shan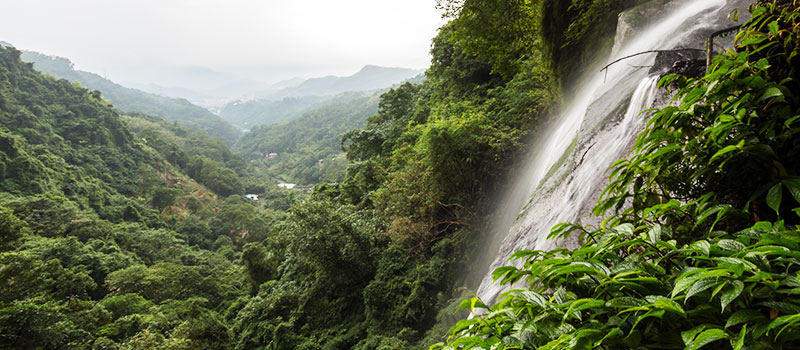 Address: No.200, Ln. 157, Sec. 3, Zhinan Rd., Wenshan Dist., Taipei City 116, Taiwan
Beat the heat by heading up Maokong Shan, a mountain with an eponymous village perched at the top. Due to the altitude and wind, the weather is cooler on the mountain than in town.
Maokong is a tea growing area, so you will find no shortage of cafes and teahouses, as well as shops selling high-quality tea that makes a great souvenir. This is a place to relax with a cup of tea and a nice meal as you enjoy stunning views of Taipei from above.
How to get there: From MRT Taipei Zoo Station, take the Maokong Gondola cable car.
Buy Travel Insurance
Get travel insurance from HL Assurance for your trip to Taiwan so you can enjoy your holiday with peace of mind. Our travel insurance policy covers your trips to parks, commute by train or pay for car rental excess.