Taiwan's night markets are so legendary that some of their snacks are now exported abroad—bubble tea and the Shilin Taiwan Street Snacks franchise are just some of the goodies that Singapore is familiar with.
So pack your bags, buy your travel insurance, book your air tickets and hit up these night markets, which rank amongst Taiwan's best-known.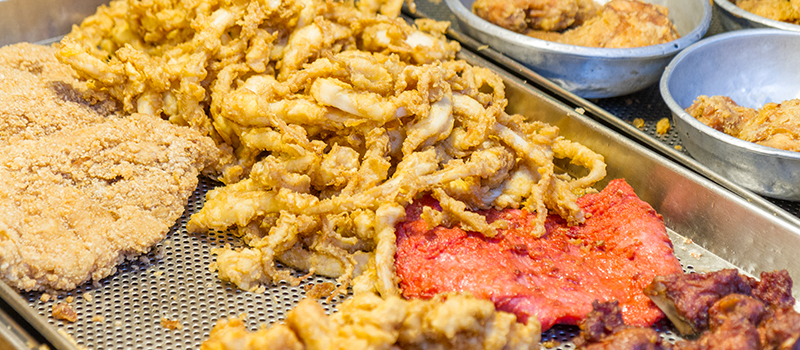 Shilin Night Market
Shilin Night Market Market in Taipei is Taiwan's best and most famous night market. It is renowned for its selection of cheap and tasty food and snacks. Stalls that have become famous include Hot Star Large Fried Chicken and the oyster stall at number 15-32.
Because of its overwhelming popularity, this night market tends to be very crowded, so keep watch over your belongings and make sure you have a
good travel insurance policy
that protects you from petty theft!
Address: 10 Jihe Road, Shilin District Taipei City, Taiwan 111
Opening hours: Daily from 3:30 pm to 1 am
Raohe Night Market
Raohe Night Market, with its eye-catching Chinese-style entrance which glitters at night, is one of Taipei's oldest night markets, and also one of its best.
The market features ubiquitous food and snack stalls, a games area where players can win prizes, as well as shops and stalls retailing clothing and accessories. Famous snacks include Fuzhou Pepper Buns and Fukushima Yaki's okonomiyaki.
Address: Raohe Street, Songshan District, Taipei City, Taiwan 105
Opening hours: Daily from 4 pm to 12 am
Huaxi Night Market
The festive cheer that lights up most night markets is absent at Taipei's Huaxi Night Market, also known as Snake Alley. The night market is known for its role in the snake trade, and concoctions made of snakes' blood as well as the slithery reptiles themselves are put on display.
But if you're after something a bit less hair-raising, the night market also houses stalls selling regular food such as congee and oyster omelet.
Address: Kuangchou, Sanshui and Huasi Streets, Taipei, Taiwan
Opening hours: Daily 4 pm to 12 am
Rui Feng Night Market
One of the most popular night markets in Kaohsiung, Rui Feng Night Market is sprawling, bustling and packed with food, shopping and entertainment options spilling out over several streets. Notable snacks include bubble tea toast and takoyaki balls, both at NT60.
Being one of the city's biggest night markets, it is not the cheapest, but travelers will still find prices reasonable.
Address: Yucheng Road, Zuoying District, Kaohsiung City, Taiwan 804
Opening hours: Tue and Thu to Sun from 6 pm to 1 am
Kai Xuan-Jin Zhuang Night Markets
These two-night markets in Kaohsiung are located right next door to each other, so visitors usually take the opportunity to enjoy both at the same time. Both night markets have a selection of games, retailers and food stalls, including the famous Jianhaoji Stinky Tofu King and German Pork Hock.
Address: 788 Kaisyuan 4th Road, Qianzhen District, Kaohsiung City, Taiwan 806
Opening hours: Tue and Thu to Sun from 5 am to 2 am
Feng Chia Night Market
This night market, which is located in Taichung, Taiwan's third largest city, is also one of its biggest and best.
Located a short walk from Feng Chia University, the night market is populated by university students out for a late-night snack and has a huge selection of food options, as well as youth-oriented F&B establishments in the vicinity which include a cat cafe and several bars.
Address: Wenhua Road, Xitun District, Taichung City, Taiwan 407
Opening hours: Daily from 4 pm to 2 am
Buy travel insurance
Thinking of visiting Taiwan's night markets? Protect yourself with a good travel insurance policy first. HL Assurance offers travel insurance policies that will keep you safe on the road. If you're a frequent traveler, an annual travel insurance policy will give you the protection you need.
By Joanne Poh
Disclaimer: All info contained herein is intended for your general information only and is not a substitute for insurance advice. If you have a specific question, please consult our insurance experts at 6702 0202.