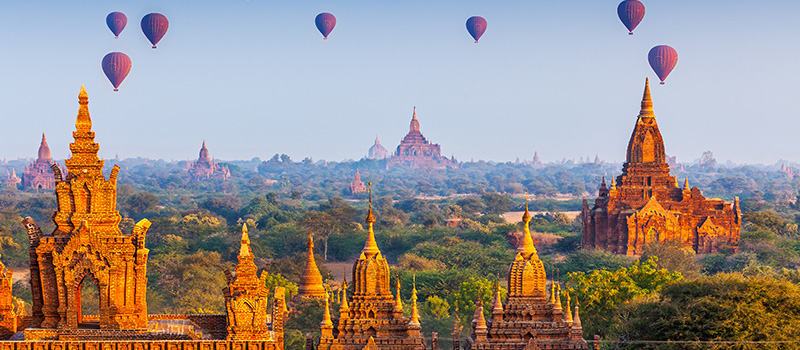 Every Chinese New Year, thousands of people flock to Changi Airport and embark on overseas getaways over the public holiday.
However, selecting a destination to visit over Chinese New Year can be tricky. In many countries in the region, the Lunar New Year is a public holiday, which means many businesses will be closed.
Luckily, we've done the homework and scoped out nearby travel destinations that aren't affected by the Chinese New Year period. Here are five countries to travel to during the Chinese New Year.
Cambodia
The Cambodian New Year is in April, so over the Chinese New Year, all businesses and tourist attractions will be open as usual.
Whether you depart for only two days or extend your trip to include the weekend, you'll have enough time to view the main temples at the world-famous Angkor Archeological Park. If you don't have much time, you can simply opt for a single day pass, while those who are spending the long weekend in Siem Reap can enjoy a three-day pass.
Another option is to fly to Phnom Penh and explore the Cambodian capital, from which you can visit the Killing Fields and the Tuol Sleng Genocide Museum for a saddening history lesson. If you're there for the long weekend, you can take a long-distance bus from Phnom Penh and then depart from Siem Reap.
Laos
Lao New Year is celebrated in April, so tourists will experience few disruptions over the Chinese New Year period.
Luang Prabang, the UNESCO-listed ancient capital, is a must-see and is littered with gorgeous temples and monasteries. Couples will also enjoy Luang Prabang's tranquil atmosphere and abundance of romantic restaurants.
If you've got more time, you can fly to the capital Vientiane and enjoy city life while visiting temples and stupas before taking an exhilarating sleeper bus ride to Luang Prabang, admiring breathtaking mountain scenery along the way.
Thailand
In Thailand, the first day of the lunar new year is a public holiday, and businesses owned by the ethnic Chinese minority might be closed.
However, by and large, life goes on as usual. The only exceptions are the Chinatown areas, such as Yaowarat in Bangkok and Warorot Market in Chiang Mai, which will be very quiet.
Whether you are visiting Bangkok for a spot of shopping and partying, relaxing at a beachside resort in Phuket or temple hopping in Chiang Mai, it's business as usual.
Indonesia
The first day of the Chinese New Year is a public holiday in Indonesia, but so long as you are not planning on visiting Chinese ethnic enclaves, you will not be affected much by business closures.
Beautiful Bali is a great choice over the hectic Chinese New Year period. Whether you're there to catch some waves on a surfboard, luxuriate in Seminyak's stylish cafes and bars or marvel at temples in Ubud, you won't be disrupted by the public holiday.
Myanmar
As Chinese New Year is not celebrated in Myanmar, you'll be able to enjoy this Southeast Asian gem without any disruptions.
Bagan is a must-visit for first-timers in Myanmar. Rent an electric bicycle to explore the archeological site with its staggering collection of brick-red temple ruins baking under the sun.
The temples are spread out over a massive distance, and much of your time will be spent riding from one site to another on dusty, deserted roads, feeling for all the world like Indiana Jones.
Buy travel insurance
Before leaving home, protect yourself with travel insurance from a trusted insurer such as HL Assurance. We wish you a prosperous Chinese New Year 2019!
By Joanne Poh
Disclaimer: All info contained herein is intended for your general information only and is not a substitute for insurance advice. If you have a specific question, please consult our insurance experts at 6702 0202.