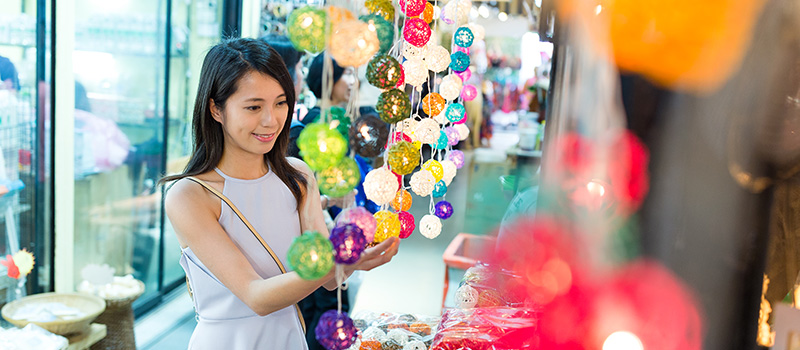 Bangkok is a shopper's paradise, and also one of Singapore's most visited destinations. The Thai capital, which is also teeming with great food and entertainment options, is home to some of the world's best markets and shopping malls.
So shop around for cheap air tickets, book your travel insurance, and head to Bangkok for a weekend of shopping at the following places.
Platinum Fashion Mall
Fashionistas, as well as blog shop owners all over Singapore, know that Platinum Fashion Mall in Bangkok's Pratunam district is the best place for cheap and chic fashion.
The massive mall is filled with floor after floor of fashion and accessories, with entire floors being dedicated to women's clothing, men's clothing, shoes, and accessories. Much of what they sell is made in Thailand, and extremely on-trend. Most of the merchants sell their wares on a wholesale basis, which means that the more you buy, the lower prices will fall. Shopping in a group will help you snag the cheapest prices. That being said, even buying a single piece is usually worthwhile, as you can often find the exact same item being sold for over 3 times the price back in Singapore.
Price range: About 250 baht (11 SGD) to 400 baht (17 SGD) for a basic dress/t-shirt, cheaper if you buy several pieces
Address: 222 Phetchaburi Rd, Khwaeng Thanon Phetchaburi, Khet Ratchathewi, Bangkok 10400, Thailand
Opening hours: Mon, Tue, Thu Fri 9 am to 8 pm; Sat, Sun, Wed 8 am to 8 pm
Nearest subway station: Chit Lom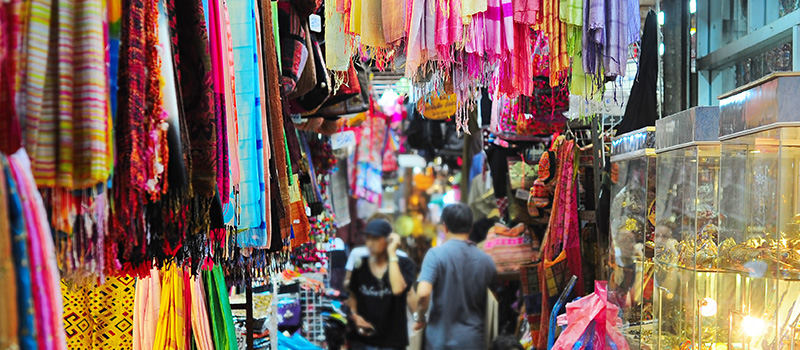 Chatuchak Market
This is the mother of all markets, not just in Thailand but in all the world. Chatuchak Market is so big it's impossible to explore it in one day, and is also one of Bangkok's best tourist attractions.
The market is divided into various zones, including clothing and accessories, furniture, food, pets, books, antiques, ceramics, handicrafts, gardening, and art. You'll have to plan your trip and make a beeline for the sections that interest you most, as it is impossible to see everything in a single day.
Price range: About 200 baht (8 SGD) to 300 baht (13 SGD) for a basic dress/t-shirt
Address: Kamphaeng Phet 3 Rd, Khwaeng Lat Yao, Khet Chatuchak, Bangkok 10900, Thailand
Opening hours: Fri 6 pm to 1 am, Sat and Sun 9 am to 6 pm
Nearest subway station: Kamphaeng Phet

MBK Shopping Center
Ma Boon Khrong Center, better known as MBK, is a relatively old shopping mall that has proven enduringly popular amongst tourists from Singapore.
The mall is a good all-rounder when it comes to the selection of goods. Other than the usual shops selling clothes, accessories, and shoes, there is also a department store with brand-name underwear and homeware that have proven popular with a Singapore clientele. There is also an entire floor dedicated to electronic items.
Price range: Many basic items like t-shirts going for 100 (4 SGD) to 200 baht (8 SGD)
Address: 444 Phayathai Road, Pathum Wan, Bangkok 10330, Thailand
Opening hours: Fri 6 pm to 1 am, Sat and Sun 9 am to 6 pm
Nearest subway station: National Stadium
Central World
If you're looking for mainstream brands and only have the time for one glitzy shopping mall, hit up Central World, which is Thailand's biggest and some say best shopping center.
You'll find floor after floor of fashion brands, including the likes of H&M, Zara, Forever 21, Calvin Klein Jeans, Coach, Pandora and more. Look out for sales and promotions, which can make items significantly cheaper than their equivalents in Singapore. But that's not all—the mall also has an ice skating rink and cinema, as well as a selection of book shops, hair and nail salons, and massage parlors. Price range: Prices of products from international brands are sometimes but not always lower than in Singapore. To be sure, you might want to compare prices on brands' websites before your trip.
Address: 999/9 Rama I Rd, Khwaeng Pathum Wan, Khet Pathum Wan, Bangkok 10330, Thailand
Opening hours: Daily 10 am to 10 pm
Nearest subway station: Chit Lom
Buy travel insurance
Get ready to shop till you drop in Bangkok—but first, protect yourself with HL Assurance's travel insurance for a safe and fruitful trip. If you travel often, HL Assurance's annual travel insurance will keep you safe all year round.
By Joanne Poh
Disclaimer: All info contained herein is intended for your general information only and is not a substitute for insurance advice. If you have a specific question, please consult our insurance experts at 6702 0202.