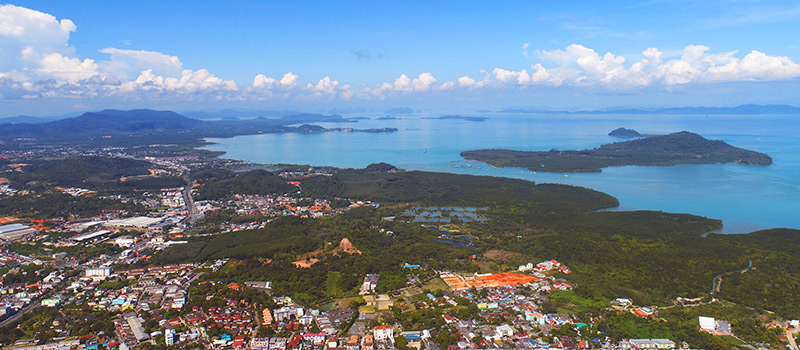 Phuket is just a short plane ride away from Singapore, so it's no wonder that it's one of Singapore's favorite
travel destinations
. No matter how many times you visit the island of Phuket, there's always something new to do and discover.
Here are four unique things to do in Phuket on your next trip to this Thai paradise.
Buy second-hand shoes at the Phuket Weekend Market
Even if you're a big fan of Thai markets in general, the Second-Hand Shoe Shop at the Phuket Market (also known as Naka Weekend Market) in Phuket Town is likely something you haven't seen yet.
This market sells a mind-boggling array of shoes, all sold at low prices. One wonders what the stallholder must have gone through to get hold of all these shoes. Not only do you get a new pair of shoes for cheap, but you also support the environment by buying second hand.
Address: Wichit, Mueang Phuket District, Phuket 83000, Thailand
Opening hours: Sat and Sun 4 to 9 pm
Entrance fee: Free
Get up close and personal with primates at Monkey Hill
Monkey Hill in Phuket Town is populated by lots and lots of furry and sometimes overly-friendly macaques.
While the monkeys are cute and mostly not afraid of tourists, watch out for your belongings as they have been known to pickpocket or snatch things from unsuspecting tourists. Don't feed the monkeys and make sure you protect your valuables from theft with travel insurance.
Address: 34133 Soi Muensri, Tambon Ratsada, Amphoe Mueang Phuket, Chang Wat Phuket 83000, Thailand
Opening hours: Daily 6 am to 8 pm
Price: Free
Learn about the Peranakans of Thailand at Peranakanitat Museum
Visitors from Singapore might be surprised to know that there are Peranakans not just in Singapore and Malaysia, but also in Thailand. The Pernakanitat Museum enables visitors to learn about the fascinating culture of the Peranakans of Thailand as well as other areas like Singapore and Malaysia.
The exhibits are colorful and visually sumptuous, and the museum recreates Peranakan dwellings in excruciating detail. There is also a restaurant that gives visitors the chance to sample Thai Peranakan cuisine.
Address: 124/1 Moo 1, Sri Soonthorn, Thalang, Phuket 83110, Thailand
Opening hours: Daily 9 am to 6 pm
Price: Free
Dance the night away at Ka Jok See, Phuket's best-kept secret
If getting smashed at Bangla Road isn't your thing, spend the evening at Ka Jok See instead. This beautifully-decorated restaurant, which is located in a Sino-Portuguese building, turns into one of Phuket's best parties at night, with music, dancing, a cabaret show, lots and lots of alcohol and flirtatious staff.
To put it bluntly, this is not the cheapest place in Phuket and is thus not for the budget traveler. However, if you're willing to spend, don't be surprised if you have more fun at Ka Jok See than you've ever had on the Bangla Road party circuit!
Address: Ka Jok See, 26 Takua Pa Road, Phuket Town
Opening hours: Daily 7:30 pm to late
Price: 3,000 baht (127 SGD) gets you a free flow of food. Promotional prices might be available during the low season.
Buy travel insurance
Protect yourself with HL Assurance's travel insurance so you can enjoy your trip to Phuket with peace of mind. HL Assurance also offers annual travel insurance for those who travel frequently.
By Joanne Poh
Disclaimer: All info contained herein is intended for your general information only and is not a substitute for insurance advice. If you have a specific question, please consult our insurance experts at 6702 0202.