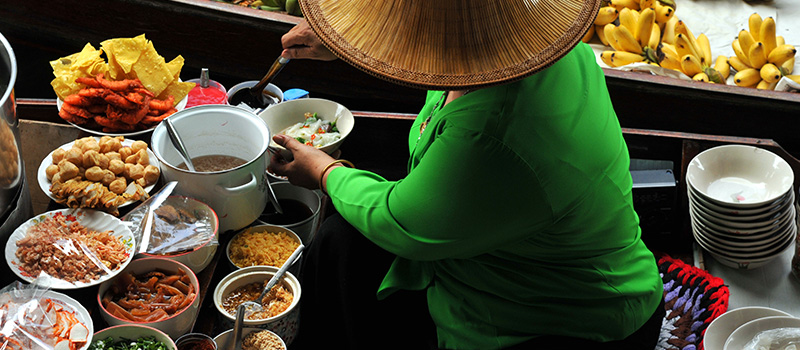 Eating well is a given in Bangkok. Every weekend, the Thai capital is mobbed with visitors from Singapore determined to eat their fill.
Street food in Thailand is cheap and almost always delicious. Here are our top picks.
Doy Kuay Teow Reua
The Victory Monument area is one of the best places for authentic street food at night, populated mostly by a local clientele.
We're hard-pressed to pinpoint one particular stall, but Doy Kuay Teow Reua Boat Noodles is definitely worth visiting. Boat noodles also happen to be one of the cheapest dishes available in Thailand, so you can afford to down several bowls.
The rich broth is seasoned with a heady combination of spices you'll never find outside of Thailand.
Address: Ratchawithi Soi 18 (Wat Makok), Thanon Ratchawithi, Bangkok 10400
Opening hours: Daily 8 am to 6 pm
Price: 15 baht (0.60 SGD)
Hann Khao Soi Lovers
Khao Soi fans who lament not being able to get their fix outside of Northern Thailand should head to Hann Khao Soi Lovers in the trendy Ari neighborhood.
This unassuming streetside eatery has earned a loyal following, even as the rest of the Ari neighborhood is quickly getting gentrified. Their Khao Soi noodles in a sumptuous curry come with chicken and pork or beef meatballs.
Address: Phahonyothin Road, Samsen Nai, Phaya Thai, Bangkok 10400, Thailand
Opening hours: Mon to Sat 8an to 4 pm or whenever they sell out
Price: 50 baht (2 SGD)
Nai-Ek Roll Noodles
Bangkok's Chinatown area, Yaowarat, is where to go for some of the tastiest Chinese food this side of the Great Wall.
The competition is stiff, but Nai-Ek Roll Noodles have become so famous that they've received a nod in the Michelin Guide. Their noodles, drowning in a peppery herbal broth and served with crispy or stewed pork, make braving the queue worthwhile.
Address: 442 Yaowarat Rd, Khwaeng Samphanthawong, Khet Samphanthawong, Bangkok 10100, Thailand
Opening hours: Daily 7:30 am to 1 am
Price: 50 baht (2 SGD) to 100 baht (4 SGD)
Yok Talay
Mookata, or Thai hotpot-and-barbecue, is so good that it's been exported to Singapore with great success. But there's nothing like dunking and frying your ingredients in a Bangkok sidestreet eatery.
At Yoktalay, you'll come face to face with a mind-boggling selection of seafood, and the buffet format means you'll be able to load up on as much seafood as you like.
Address: 101/1 Soi Thakham 9/1 Bang Khun Thian, Bangkok 10150, Thailand
Opening hours: 5 pm to 11 pm
Price: 399 baht (17 SGD)
Pad Thai Fai Look
There are lots of Pad Thai sellers in Bangkok, but Pad Thai Fai Look has managed to build up a reputation as one of the most famous and best Pad Thai stalls in the country.
Located in the famous Sukhumvit 38, which is known to be a street food hotspot in what is otherwise a pricey area, the stall has won awards and enables you to enjoy one of Thailand's classic dishes at its finest.
Address: 38 Sukhumvit Rd, Khlong Tan, Khet Khlong Toei, Bangkok 10110, Thailand
Opening hours: 7 pm to 12:30 am
Price: 50 baht (2 SGD)
Buy Travel Insurance
Eat up in Bangkok, but don't forget to protect yourself with travel insurance from HL Assurance first! If you're a jet setter who travels often, HL Assurance's annual travel insurance policy will give you peace of mind all year round.
By Joanne Poh
Disclaimer: All info contained herein is intended for your general information only and is not a substitute for insurance advice. If you have a specific question, please consult our insurance experts at 6702 0202.