Krabi is such a short and cheap flight away from Singapore that it's so tempting to book travel insurance and hop on the next flight there… not least because the Thai province is home to some of the world's most stunning beaches.
Here are some of Krabi's best and most gorgeous beaches.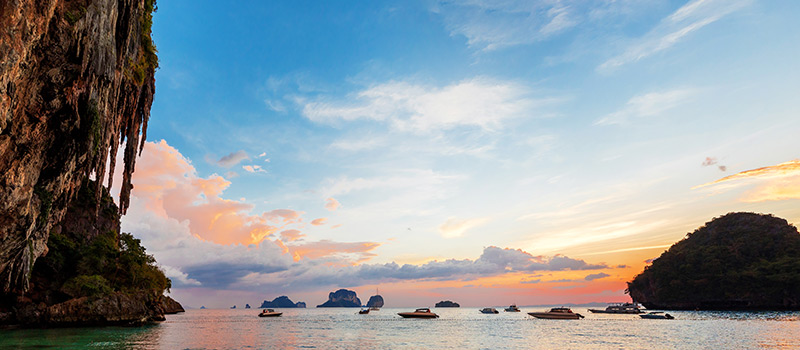 Phra Nang Beach (Railay)
Railay is a hotspot for rock climbers and beachgoers, and it's easy to see why, as the peninsula is flanked by towering limestone rocks which rise majestically out of the Andaman Sea.
All of Railay's beaches are stunning, but Phra Nang Beach is in a league of its own. Pristine white sands and majestic rock formations aside, the waters off the beach are also calm, with gentle waves that lend themselves well to swimming.
Phra Nang Beach is also home to a cave filled with phallic statues, meant to be offerings to the goddess Phra Nang. It sounds a little bizarre, but also makes an interesting tourist attraction in between frolicking in the sand and sea.
Railay West Beach (Railay)
Railay West Beach is anything but secluded. At Railay, this beach is where the action happens when the sun sets, thanks to the beach bars and restaurants which line it, enabling customers to enjoy stunning views with their drinks and beverages.
The beach is framed by towering limestone cliffs on both sides and is also where tourists can book boat tours and rent kayaks.
Nopparat Thara Beach (Ao Nang)
Ao Nang has carved out a reputation for itself as a party town and a stopover for tourists en route to more scenic spots like Railay. But if you have more time in Ao Nang, Nopparat Thara Beach is well worth a visit.
The beach is part of the national park and is divided into two by a river, which separates the pier and more touristy side from the more scenic side. All in all, Nopparat Thara Beach has many quiet pockets which are perfect for romantic walks or sunbathing in private without being disturbed by other tourists.
Had Yao Beach (Taling Chan)
If you're looking for an unspoiled beach that hasn't been sullied by tourism, head to Had Yao (not to be confused with Haad Yao Beach on Ko Phan Ngan), which is probably Krabi's most pristine beach, for now.
You won't see luxury hotels or beach bars at Had Yao. Instead, you'll see houses propped up on stilts and local villagers taking a break from tending to their crops.
Ko Jum Beach (Ko Jum Island)
Ko Jun is an island that, unless it's bigger, more touristed cousins like Ko Lanta and Ko Phan Ngam, has remained relatively undiscovered. Although there are some resorts and guesthouses on the island, food is relatively cheap, and at the moment visitors do not have to worry about being disturbed by the thumping of clubs and beach bars at night.
Ko Jum's main beach is the best place to chill out in a hammock, stretch out on a beach mat or enjoy a game of beach soccer or volleyball. While it's not for thrill-seekers who want to jet ski or paraglide, it's the perfect place to enjoy the beauty of the Andaman Sea.
Buy travel insurance
Before leaving Singapore for Krabi, protect yourself with HL Assurance travel insurance. If you are a frequent traveler, an annual travel insurance policy will give you peace of mind all year round.
By Joanne Poh
Disclaimer: All info contained herein is intended for your general information only and is not a substitute for insurance advice. If you have a specific question, please consult our insurance experts at 6702 0202.