The school holidays are just around the corner, and you might be thinking of taking off on an overseas holiday as a family. But are you ready to travel with the kids?
Well, the good news is, it is not that difficult to travel with kids—if you do certain things to keep them calm and know what you need to prepare in advance. Here are some tips to make traveling with kids a fuss-free affair.
Talk them through the security and flying process
Many parents dread flying with kids, fearing unending crying or losing them at the airport. While you should, of course, be prepared for a wee bit of commotion, don't underestimate the value of prepping your kids before the flight.
Before leaving Singapore, talk them through the check-in, security and customs processes ahead of time so they'll know what to expect. Also let them know what to expect on the flight, including the number of hours and rules to follow, such as putting on seat belts. Explaining the process can go a long way towards reducing stress and nasty surprises.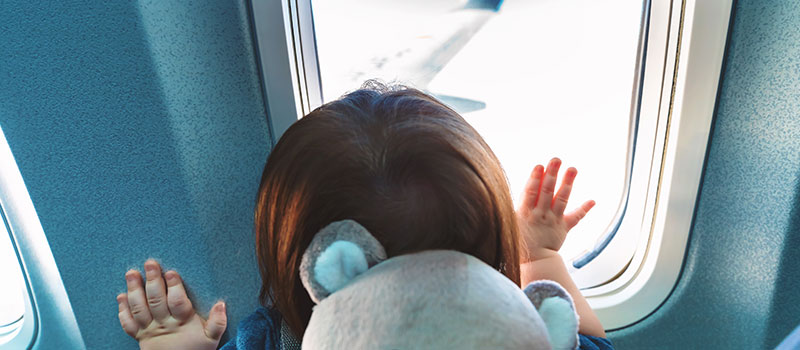 Choose seats early, and upgrade if necessary
If you're traveling with babies or young children in tow, it is best to check in online as early as possible so you can choose seats with a baby bassinet, if available.
You might also wish to upgrade to seats with more leg room if possible. This may not be the cheapest option, but it can be worth it if you're flying with a baby or toddler who'll be sitting on your knees for much of the flight.
Pack your kids' favorite entertainment
While you should avoid resorting to smartphones or tablet devices to distract your kids, bring along some entertainment just in case they get restless when you're stuck in a long queue at customs or waiting for food at restaurants.
A few favorite toys and books can go a long way towards keeping the kids calm and out of your hair.
Bring along snacks
Kids (and adults!) can get grumpy when they're hungry. When you're traveling in an unfamiliar land, it can take time to find an eatery, which can be frustrating after a long and tiring day. You might find yourself being forced to duck into a touristy or overpriced restaurant just because one of the kids has decided he or she is hungry.
Bringing along familiar and favorite snacks such as nuts, chips or fruit for the kids to munch on can be a lifesaver in such situations. When you run out of snacks, you can usually buy cheap replenishments at a local supermarket.
Don't overpack your itinerary
 Resist the urge to cram your itinerary with long lists of attractions to visit and early morning calls. Kids generally need more rest than adults and will benefit more from a relaxed holiday with a few quality moments than a frenzied litany of sightseeing.
Some activities that are fun for kids include visits to local parks and playgrounds, farm stays, and visits to theme parks. Organize your itinerary around one or two major kid-oriented activities, and don't forget to check the website of these attractions to see if they have a promotion that lowers the cost of entry as a family.
Protect your family with travel insurance
You should always protect yourself with a good travel insurance policy whenever you travel, and this is doubly important when the kids are coming along. When traveling as a family with kids in tow, the consequences of an accident, illness or missed connection are more serious than when you're traveling alone.
If you go on frequent family holidays, annual travel insurance can protect you all year round with one policy.
HL Assurance offers both single trip and annual travel insurance coverages that your entire family can trust.
By Joanne Poh
Disclaimer: All info contained herein is intended for your general information only and is not a substitute for insurance advice. If you have a specific question, please consult our insurance experts at 6702 0202.