Drivers in Singapore know that there's one way to keep their motor insurance premiums low — by not making claims when they don't absolutely need to.
That's because insurers offer generous No Claims Discounts (NCDs) on motor insurance premiums when no claims are made in the preceding year or years.
Now, you can get a NCD and pay cheap travel insurance premiums when you don't make a claim.
Thanks to a current travel insurance promotion, HL Assurance offers the first travel insurance plan in Singapore to reward customers with a NCD.
This is one of the best travel insurance promotions in Singapore at the moment, so don't miss it. Here's how it works.
What is a No Claims Discount?
A NCD is a discount on insurance premiums, offered to the customer as a reward for not making any claims. NCDs are commonly offered on motor insurance in Singapore.
The goal of NCDs is to reward safe customers and motivate them to stay safe during their travels.
A NCD is offered upon renewal of an insurance policy after the customer manages to avoid making any claims over the duration of their previous policy. NCDs can rise over time as the number of policy cycles in which the customer does not make a claim rises.
Once you make a claim, you typically lose your NCD and have to stay claim-free for another policy cycle in order to start receiving it again. Any prior NCDs accumulated up to that point are reset to zero.
How does it work?
To enjoy the chance to get a NCD on your travel insurance premiums, simply sign up for HL Assurance's Travel Protect360 Single Trip or Travel Protect360 Annual Trip travel insurance before 30 November 2019.
You will automatically be enrolled in the TravelProtect360 No Claim Discount programme.
Travel Protect360 Single Trip Basic, Enhanced and Superior Plans
When you return from your trip without making any claims within 30 days of the policy's end date, you will be eligible for a 5% discount promotion code that you can use the next time you book travel insurance.
On your second trip, you will be eligible for a 10% discount code if you do not make a claim within 30 days of the policy's end date. You can use this code on your next trip.
Thereafter, each time you successfully complete a trip without making a claim, you will receive another 10% discount code to use on your next travel insurance purchase.
Should you eventually make a travel insurance claim, you will cease to receive NCD promo codes for subsequent trips.
Travel Protect 360 Annual Basic, Enhanced and Superior Plans
At the end of your first policy year, if you have not made any claims, you will receive a 10% discount promo code to use when you renew your Travel Protect360 Annual Plan.
How much can I save?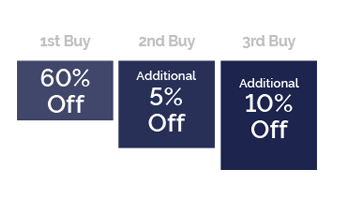 For single trip travel insurance customers, you can save 5% on travel insurance the next time you travel, and 10% on subsequent trips.
Meanwhile, annual travel insurance customers can enjoy 10% off next year's premiums.
To enjoy a No Claim Discount on your premiums, sign up for travel insurance from HL Assurance by 30 November 2019. Check out HL Assurance's website to compare travel insurance plans and find the best travel insurance for your needs.