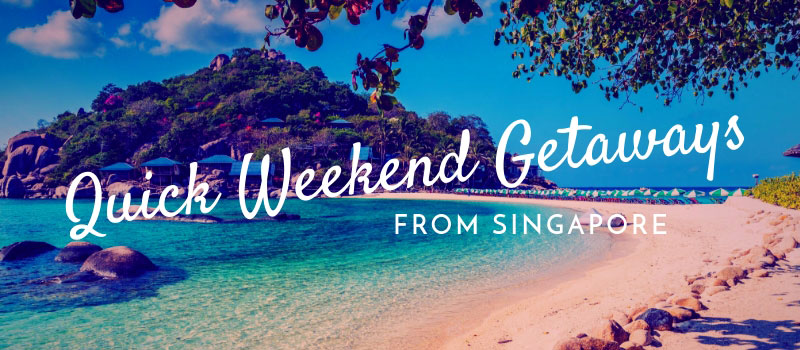 Singaporeans are avid travelers, and it's easy to see why, as the island nation is surrounded by some of the world's most beautiful and most affordable travel destinations.Here are some quick and easy weekend getaways you can escape on the next time you need a change of scenery.
Phuket, Thailand
Flight time: 50 minutes
Not only is Phuket less than an hour's flight from Singapore, but it is also an excellent destination for couples and groups of friends.
Whether you prefer to take advantage of the raucous nightlife on Bangla Road or stay at a romantic resort in a secluded area, there are lots of luxurious yet affordable accommodation choices.
What's more, there's a cornucopia of activities on offer, from jet skiing and body boarding for the more adventurous, to traditional Thai massage and cooking classes for those who just want to relax.
Recommended itinerary:
Spend your first morning exploring Phuket Town, the province's largest town. If you want to buy any souvenirs, you'll find them at the Weekend Market. Grab lunch at the big Central Festival shopping mall's food court before heading to Patong Beach in the evening and enjoying the atmosphere. In the night, head to Bangla Road and enjoy a drink or more if you wish.
The next day, spend your morning at Kata Noi beach, one of Phuket's most untouched, before taking a tuk-tuk to the massive Buddha statue at Nakkerd Hills. From that vantage point, you'll enjoy breathtaking views over the island.
Penang, Malaysia
Flight time: 1 hour 25 minutes
Georgetown, the capital of Penang, can feel overwhelmingly nostalgic for Singaporeans, as the city retains many traditional and colonial markers so similar to what Singapore once had.
After admiring street art in the historic city center and visiting atmospheric temples and mosques, you will definitely want to sample some of the city's phenomenal food. So hit up the street food stalls and hawker centers in Penang for a taste of Malaysian cuisine.
Recommended itinerary:
Spend your morning visiting the massive Kek Lok Si Temple complex in Air Itam. Have lunch at the famous CF Food Court in Georgetown, located at Weld Quay. Most of the stalls are consistently good, but you can't go wrong with the clay pot rice and wonton soup.
Follow up with a dessert of Chendol at one of the two famous stalls at the intersection of Jalan Penang and Lebuh Keng Kwee. Spend the evening wandering around the historic old town, taking in ornate buildings like the Khoo Kongsi and Guanyin Temple.
The next day, spending the morning lazing around on the beach at Batu Ferringhi before heading to the famous Gurney Drive, where you can enjoy hawker food by the sea.
Siem Reap, Cambodia
Flight time: 2 hours 25 minutes
Whether you're traveling as a couple or with kids, visiting the magnificent temples at Angkor is a great adventure that will thrill the young and the not-so-young.
After all, that temple exploring, enjoy a traditional massage in Siem Reap or have a cold Anchor Beer or two at one of Pub Street's many bars.
Recommended itinerary:
If you're just staying the weekend, most of your time will be spent exploring the Angkor Archeological Park. During your downtown, don't forget to visit Siem Reap's Central Market, where you can pick up some trinkets and souvenirs, as well as the Pub Street area, which comes alive in the night.
Hong Kong
Flight time: 4 hours
Singaporeans' favorite past-times, namely shopping and eating, can be enjoyed with greater intensity in frenetic Hong Kong.
Hong Kong does glitzy malls and aromatic street food with fervor, but if you wish to leave the city for some respite, you can find nature in the form of the magnificent Lantau Island and the sprawling beaches at Repulse Bay and Clearwater Bay.
For the kids, there's no experience more magical than a day at Disneyland, which you can follow up with some time at Ocean Park if you really want to spoil them.
Recommended itinerary:
Start your day with a ride up to The Peak, where you'll enjoy breathtaking views. Have lunch at one of Hong Kong's many Cha Chaan Teng. Spend your evening getting starstruck at the Avenue of Stars and enjoying the views over Victoria Harbour.
Spend the next day at Disneyland if you have kids in tow, or visit the big Buddha statue on Lantau Island if you prefer. In the evening, visit the atmospheric Temple Street Night Market, where you can bargain for your purchases under the stars.
Buy travel insurance
Before you head off on your next trip, don't forget to protect yourself with a good travel insurance policy like HL Assurance's TravelProtect360.
By Joanne Poh
Disclaimer: All info contained herein is intended for your general information only and is not a substitute for insurance advice. If you have a specific question, please consult our insurance experts at 6702 0202.