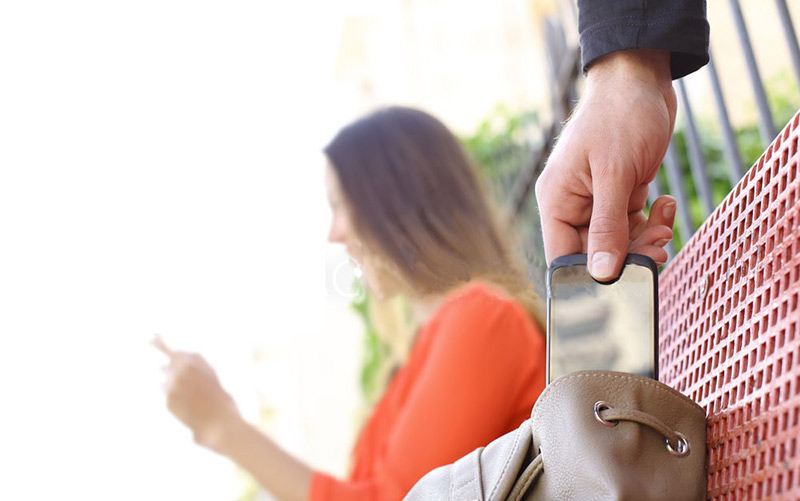 We carry our smartphones everywhere with us these days. Even when we're at the top of the Eiffel Tower, or looking at the Pyramids of Giza, we're going to have a phone in hand and snap selfies. Or Facebook our adventure to make friends jealous. But here are some places where it's better to keep your phone hidden (in no particular order):
1. Times Square, New York City
Mobile threat defense company Skycure has rated Times Square as the most dangerous place to use your phone, ever. This is due to the high potential for SSL decryption attacks – these allow hackers to hack your smartphone, and lower or disable security settings.
From there, they can access private information such as your mailboxes, photo gallery, social media accounts, or even credit card details. And your first warning might be hours later, when thousands of dollars are charged to your cards, and you find out you bought games and movie tickets for someone living in another country.
It's strongly recommended that you do not connect to any free networks in the area. Note that scammers may try to mislead you with network names like McDonald's Free Wifi, Starbucks Wifi, etc.
2. Chow Kit, Kuala Lumpur
If TripAdvisor doesn't warn you off Chow Kit, then KL residents will. To be absolutely fair, Chow Kit is no longer what it used to be in the 1970s. Back then, it was notorious as a shady area filled with criminal elements. Today, it has mostly be cleaned up, and large numbers of CCTVs have driven away from the undesirables.
But that said, Chow Kit, is still noted for a higher incidence of snatch theft. You can be taking a selfie one moment, and the next someone on a motorcycle will drive by and grab your phone. Furthermore, these robbers often have friends in the area, it is dangerous for you to confront them (if you can somehow even catch them).
It's best to avoid Chow Kit altogether after 7 p.m. If you must walk through the area at night, keep your mobile phone secured in an inner pocket.
3 La Boca, Buenos Aires 
Snatch theft starting becoming a serious offense in Argentina from 2008 (the same time as the Global Financial Crisis). Between 2008 and 2009, snatch theft incidents rose by 118 percent, and it's something local authorities are still working hard to crack down on.
When walking in some of the barrios, particularly La Boca, even the residents will tell you it's a bad idea to whip out your expensive Samsung Galaxy Note 7 or iPhone 7 and start taking pictures.
If it's at night, you're likely to attract a snatch thief. Or much worse, an armed robber. During the day it's generally safer, but you have to remember people will see you with the phone. Pickpockets could note where you keep it, and you could be a target for them.
4. New York City Subway 
Electronic theft tops the list of crimes committed on the New York City subway. In 2009, it accounted for nine percent of crimes committed on the trains; by 2015, it accounted for half of them.
If you observe the more savvy locals on the train, they are reading or listening to music. It's mainly the tourists (or the brave few) who whip out their smartphones or iPads, and actually use it on the train.
The actual crime may not be committed on the train itself – but you may be followed on your way out of the station, and then threatened, pickpocketed, or mugged.
While this is less likely in the busier spots, such as Penn station, it can happen in the more obscure areas. When in doubt, keep your phone and other valuables in an inner coat pocket. And do not reveal that you have these things.
5. Pattaya, Thailand
Pattaya has something of an edgy reputation. While a lot of this beach paradise has been cleaned up over the past five years, it is still considered something of a vice area.
One of the threats here are motorcycle bandits: roving gangs sometimes monitor tourists and are on the lookout for valuables such as jewelry, wallets, and of course expensive phones.
Once you have picked as a mark, these thieves ride by at high speed and grab at your belongings. If your phone is in a bag, they will grab the entire bag if possible (so avoid revealing it in the first place). As your other belongings could be taken, always ensure you have travel insurance before departing Singapore.
For more tips on safe traveling and insurance, like us on Facebook and we'll keep you updated.
This is mostly avoidable if you walk about in the day, and don't wander the streets at night. You should also give the various bars a wide berth – some thieves will approach you here to distract you, while their companions rifle through your belongings or pick your pocket.
6. Almost any busy airport cafe on the tourist season
There is a phenomenon known as "holiday hacking", and cybercriminals everywhere look forward to it. During tourist seasons, primarily in December, they flock to busy airport terminals and cafes.
They know tourists will be in the area seeking wi-fi access. Using tactics stated in point 1, they will typically set up a scam network. It's free to connect to it, but the moment you do they will infiltrate your phone.
And the more sophisticated criminals don't even need to do that – they can get into your electronic device if you so much as use a cafe's badly secured wi-fi. The best thing you can do is keep your smartphone and get to your hotel or Airbnb first; you can contact the people at home later.

7. Islington, London
In 2013, it was reported that crime was down in London – but the specific crime of snatch theft had surged. This is not located in any one specific area, but the high crime zones are highlighted by their authorities. Do familiarise yourself with these places before going.
In particular, look out for Islington. In 2016, some 300 mobile phones are snatched here every month. The main culprits are moped-riding thieves. Most of them are teenagers – so if you see a big group of rowdy teens coming toward you on mopeds, we suggest you walk the other way.
Police patrols have been stepped up here – but you know the old saying that safe is better than sorry.
Not going to these places? Then the last dangerous place to have your phone…is in your own hands.
The worst tragedy is when you're nice and safe at home but wreck your phone anyway. More so than thefts and hacking, most phone damage is caused by phone owners: Whether it's getting your phone wet, or sitting too hard on it, accidents are a major problem. So how can you protect your mobile phone?
The good news is this type of damage is easy to deal with. For just $7.70 a month, HL Assurance's phone insurance can cover your smartphone for up to $1,000 worth of phone repairs or mobile phone screen repair. And you'll get the fixed phone delivered to your door afterward. It's definitely worth getting if you don't want to end up buying a new phone.
By Ryan Ong
Disclaimer: All info contained herein is intended for your general information only and is not a substitute for insurance advice. If you have a specific question, please consult our insurance experts at 6702 0202.