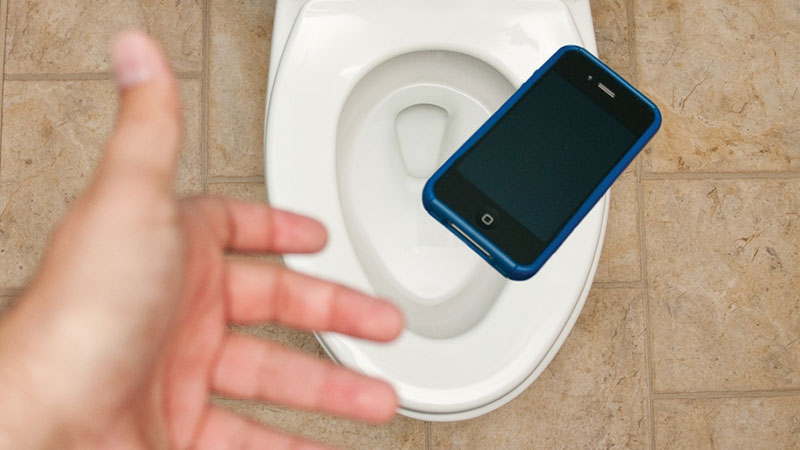 It happens to the best of us. One minute you're happily posting on Facebook, the next you're staring at your phone in the toilet bowl. And as per the rules of fate, your phone is 90 percent likely to "go in the hole" before you flush. Here are some less disgusting ways to get it out:Caveat:
Remove your watch, rings, or other jewelry on your hands before attempting any of these!
Method 1: Sacrifice your socks
If you don't mind walking around without socks all day, this is the most pleasant alternative to sticking your hand in the toilet. Use this when you drop your phone in a public restroom, and there are absolutely no other tools.
Grab the socks off both feet, and "wear" them on the hand you're going to use. If your socks are long enough, double them up.
Now plunge your hand in, and grab the phone. Grip tight so you don't need to go in for a second round.
Once the phone is out, immediately pull the socks off your hand, and wash your hands in the sink.
This stops little bits of uh…waste matter (yecch) from coming into contact with your skin. It's much more effective than using toilet paper. You will have to dump your socks though.
Method 2: Coat hanger and ladle method 
If you're at home, you probably have access to a coat hanger and a ladle. Get one of each, and make sure you're prepared to throw them away afterward.
Twist the coat hanger into a long wire with an L-shaped end. Insert the wire into the bowl, and using the L-shaped end try to drag the phone out toward you. Use the ladle as a second "arm" to help, and to scoop it out.
Done right, you will not need to put your hands in the toilet bowl at all. This method is also useful if the phone has become lodged in the trap (the U shaped curve of the toilet bowl pipe).
Method 3: Mummy's hand
Warning: this method can choke toilet bowls. The janitor who discovers this will not be happy. Avoid except as last resort.
This method only works if you have a substantial amount of toilet paper available. One roll won't suffice so duck into the next cubicle if you need more.
Starting from three inches above your wrist, wrap the toilet paper around your hand – just like a boxer putting on tape before a fight. Wrap the top part of your hand first, leaving your thumb exposed.
Once you have gone over the top part of your hand with at least 15 to 20 layers of toilet paper, start wrapping around the thumb. The idea is to be able to grab the phone between the top part of your hand and your thumb (if you wrap them together you lose the ability to grip).
Now stick your "mummified" hand in the bowl, and yank out the phone.
Once you get the phone, pull at the now damp wrappings from your wrist down. The wrappings will "peel" off your hand and fall into the bowl, in a giant clump of paper.
Method 4: The pointed end of a toilet brush
If there is a toilet brush available, your task will be a lot easier. This works best if the toilet brush handle is rubberized.
Insert the back end of the toilet brush (the part without the scrubbing brush) into the toilet bowl. The part with the scrubbing brush is usually too big and could drive your phone further down the toilet.
Using the back end of the brush, "pin" the phone against the smooth sides of the bowl (press hard! Don't worry, it's harder to break a phone this way than you imagine).
Keeping the phone pinned against the sides of the toilet bowl, I gradually pull it upward. When you have one edge of the phone out of the water or a quarter of the way out, it's usually easy to reach in and grab it.

Method 5: Plastic Bag Grab
Use this if you are at home and have a plastic bag handy. Or if you can somehow get into the supply closet of a public restroom. The ideal tool for this is a medium-sized supermarket plastic bag, which can reach up to your wrist – but in a pinch, a trash bag, or the kind of container used for chicken wings and fish balls, will do as well.
If you have tape, secure the bag to your hand and tape it shut at the wrist. Otherwise, you can try using a rubber band (not too tight, don't cut off your circulation).
You can then reach in and grab your phone with a minimal amount of disgust.
After getting your phone out
Immediately follow-up with Dettol / Lysol spray if possible, otherwise, use a tissue wrap. Do not put it in your bag, as it may spread bacteria to your other belongings.
Turn your phone off, and remove the battery and sim card. Wait till your phone is dry before trying to test it. Never turn it on while it's still wet, you could short it out and destroy it.
Make sure your phone is insured
If you have a warranty, check if it covers water damage. Most phone warranties don't so brace for the possibility that you'll have to buy a new one, that costs about $1,000.
Incidents like dropping the phone in in the loo are one-off events. Mobile phone insurance can save money by providing coverage against liquid damage and accidental damages. This is especially valuable if you're paying off your new smartphone. Plus, you still need to transfer and sync all your data and contacts all over again. HL Assurance MobileCare plan costs as little as $7.70 a month if you're a Watsons member. That's hassle-free protection for you and your phone.
Image credit: angieslist.com
By Ryan Ong
Disclaimer: All info contained herein is intended for your general information only and is not a substitute for insurance advice. If you have a specific question, please consult our insurance experts at 6702 0202.