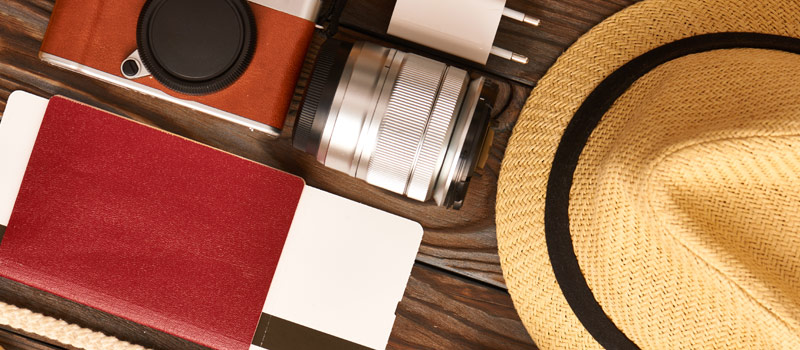 Have you ever described yourself as a globetrotter or world citizen? Do you go on so many trips a year that your friends never know when you're around on any given weekend?
Then you are what is known as a frequent traveler. Since you spend so much time on the road, here are some things worth investing to make your life a lot easier.
Foldable water bottle
Buying bottled water every single time you're thirsty is unnecessary in countries where tap water is safe to drink. But nobody wants to lug a heavy water bottle around everywhere they go.
That's why a foldable water bottle can be a lifesaver. Refill it when you're leaving your accommodation, and then fold it up into a teeny tiny rectangle that fits into your pocket when you've emptied it.
Where to buy: Vapur foldable water bottles are available at Exxe Sports Elements (Orchard Centre, 181 Orchard Road, #05-41/42 Orchard Central) and The Planet Traveller (ION Orchard, Marina Square, 6 Raffles Boulevard #03-113) outlets.
Approximate price: $18 for a 0.7-liter bottle
Travel neck pillow
As a seasoned traveler, you've spent countless hours on overnight planes, trains, and buses, and you know that falling asleep isn't always easy.
A good travel pillow can seriously raise your level of comfort. Simply attach one to the outside of your daypack or carry-on baggage when you're about to board. Or if you want to save room in your bags, an inflatable neck pillow takes up almost no space when deflated.
Where to buy: Go Travel Pillows are available at The Planet Traveller (ION Orchard, Marina Square, 6 Raffles Boulevard #03-113) outlets.
Approximate price: $29.90 to $39.90
Mini first aid kit
Little accidents can and do happen when you're on the road. Skinned knees, pulled muscles or an insect bite that won't go away are just some of the things you might experience.
Instead of letting these mishaps ruin your holiday, treat them with the help of a mini first aid kit that doesn't take up much space in your luggage. Make sure the supplies within are medical-grade so you won't have to worry about hygiene issues. Essentials include antiseptic wipes, plasters, and sterile gauze.
Where to buy: Travel first aid kits are available at Guardian Pharmacy.
Approximate price: $10 to $20
Packing Cubes
Searching for something amidst a jumble of clothes in your suitcase can be a frustrating experience.
That's why you should invest in a set of packing cubes that will enable you to keep your luggage organized, and make searching for something and unpacking a breeze.
Where to buy: Eagle Creek Packing Cubes are available at The Planet Traveller (ION Orchard, Marina Square, 6 Raffles Boulevard #03-113) outlets.
Approximate price: $13.90 to $26.90 per cube.
Annual travel insurance
Any experienced traveler knows that travel insurance is a must. Insurance keeps you protected should you fall ill, get injured or suffer a travel mishap like lost luggage or a flight delay, amongst other things.
When you go on multiple trips a year, it makes more sense to purchase an annual travel insurance policy that can cover you for an entire year, rather than buy individual policies each time you leave the country. This helps to save the hassle of reminding yourself to purchase one.
Where to buy: HL Assurance
Approximate premium: Varies according to plan type.
By Joanne Poh
Disclaimer: All info contained herein is intended for your general information only and is not a substitute for insurance advice. If you have a specific question, please consult our insurance experts at 6702 0202.