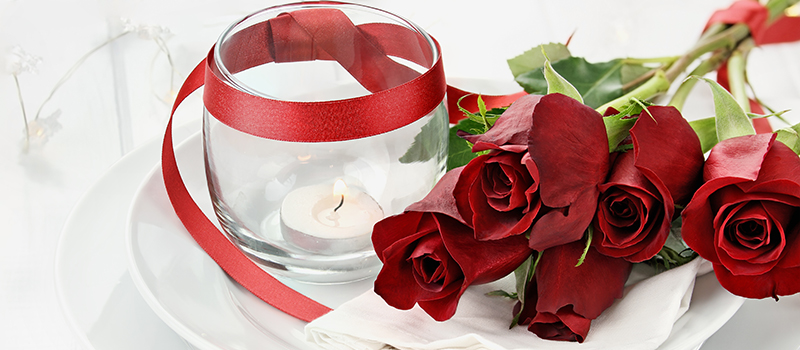 Valentine's Day is just around the corner, and you're hoping to pull out all the stops and show your partner a romantic evening.But going out on the 14th of February can get expensive, since all the best restaurants will be packed to the gills, and many eateries will hike up their prices by introducing expensive
Valentine's Day menus.That's why spending the evening in the comfort and privacy of home can be a great idea. Here are five romantic ways to celebrate Valentine's Day with your partner at home.
Cook a candlelit dinner
There's nothing more moving than a meal prepared with love. Instead of following the crowds to hip restaurants, share a meal by candlelight that you've lovingly prepared. You'll be pleased to discover that even with the most luxurious ingredients like wagyu beef, your meal will cost a lot less at home than it would at a restaurant. Light a few candles, put on some soft mood music and share a good bottle of wine as you enjoy a meal prepared with the utmost care. Do remember to practice fire safety if you'll be lighting candles, and make sure your home is protected by fire insurance.
Budget
Ingredients: $30
Wine: $30
Total: $60
Romantic meter: 10 out of 10
Have a movie marathon
This Valentine's Day, scores of couples will be flooding cinemas, hoping to snag premium couple seats. But organizing a movie marathon in the comfort of your own home gives you the freedom to create an even more private and romantic atmosphere. Select your films according to a theme, such as romantic comedies or horror flicks. Get comfy by surrounding yourself with pillows and cushions and prepare your favorite snacks like popcorn, potato chips, and other finger foods.
Budget
Snacks: $10
Wine: $30
Total: $40
Romantic meter: 7 out of 10
Organize games night
Are you and your partner more likely to try to beat each other in a round of Mario Kart or Carcassonne than to go to a fancy restaurant? Then make the 14th of February games night at home. Load up on board games that play well with two players like Jaiphur, Mr. Jack and Codenames. Alternatively, if you prefer video games, spend the evening playing your favorite PC or console games. Accompany your games with finger food and beer.
Budget
Three board games: $150
Snacks: $10
Beer: $10
Total: $170
Romantic meter: 6 out of 10
Catch the sunset together
Grab a picnic blanket or groundsheet, a bottle of wine and some finger food like olives and cherry tomatoes, and search for the best place near home to catch the sunset together. If you have Bluetooth speakers, your sunset picnic can even be accompanied by some romantic music. For those living in HDB flats, head to the rooftop of your block or a neighboring block. Of course, it is advisable to scout out the best sunset-watching spots in advance.
Budget
Picnic mat: $5
Snacks $10
Wine: $30
Total: $45
Romantic meter: 6 out of 10
Have a spa night
Have you had a stressful week? De-stress together with your partner by pampering yourselves with a spa night. Take turns to give each other massages with the help of a fragrant massage oil. Then take a bubble bath together, followed by a face mask, accompanied by some soothing music.
Budget
Massage oil: $30
Bubble bath: $10
Face mask: $10
Total: $50
Romantic meter: 9 out of 10
Home is where the heart is, and it can also be one of the most romantic places to celebrate Valentine's Day. To protect your home and the romantic memories you'll be creating within, sign up for a comprehensive fire insurance policy.
By Joanne Poh
Disclaimer: All info contained herein is intended for your general information only and is not a substitute for insurance advice. If you have a specific question, please consult our insurance experts at 6702 0202.