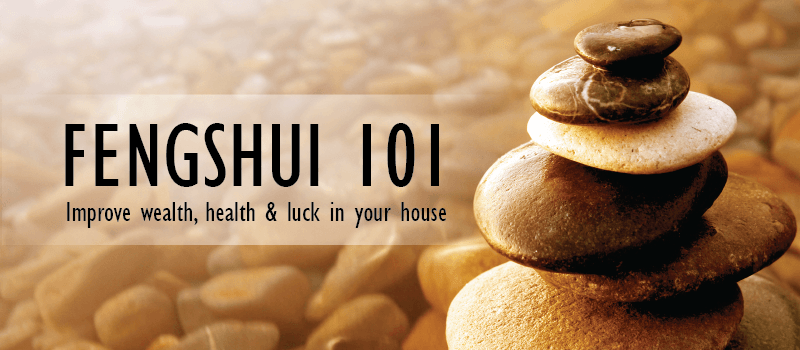 Other than being your sanctuary, your home might also be affecting your wealth, health and luck—at least, according to the principles of Feng Shui. This Chinese system aims to arrange the environment in a manner that's most auspicious. Here are some tips that will help you enjoy good luck in 2018.
Water is good for wealth
While the optimal feng shui of your home depends on a number of factors including the date of birth of the people living in it, water is generally regarded as a symbol of wealth and abundance. So water features are often suitable for work areas such as your study or office.
It's also a good idea to position your chair so you have a view of the door, display your name card on your desk to boost your reputation, and scatter coins on your desk so the money can multiply.
Light for good health
Having a dark, overly "yin" home with poor circulation of qi can result in health problems. Always ensure your home has enough natural light and is free from the clutter that can cause certain areas to become dark and dusty.
You might also want to burn candles your bedroom to purify the qi and promote good health and luck. An alternative for a dark room is a table lamp, although it could prove overstimulating.
Pick the auspicious wall art
The pictures you hang on your walls can have an effect on your health, wealth and luck. Pick art that promotes the areas of your life you need help with, and avoid negative or depressing images at all costs.
To promote wealth, display images containing scenes of flowing water like waterfalls, rivers or koi in your study or office.
Singles looking for love can put up pictures of flowers in their bedroom, while couples can display images of Mandarin ducks.
A picture of a mountain can improve your health and relationships with colleagues and partners alike.
Keep your entrance bright
Your front door not only creates a first impression on anyone who enters your home, but it can also affect the feng shui of the rest of the property.
The ideal entrance is bright and welcoming and allows a healthy flow of qi in and out of the home.
Remove any clutter that can cause the qi around your entrance to stagnate, and make sure you have a rack or cupboard where shoes can be neatly stored.
If your front door doesn't receive much natural light, consider installing artificial lights in the form of spotlights or lamps. Plants and flowers can also create a more inviting atmosphere.
Watch out for sharp edges
Be wary of sharp edges pointing at your home. Look out the window to check if the edge of a neighboring building is pointing at you, or if the corner of a T-intersection is directed at your unit. These edges direct "sha qi" into your living environment, harming your health, wealth and luck.
You also want to look out for sharp edges within your home, such as the edges of tables and shelves. Round tables are often a good way to minimize the number of edges pointing out at you.
If you can't get rid of sharp edges, you can try to mitigate their harmful effects by placing feng shui cures in their path.
For instance, you might be able to block a sharp edge by erecting a screen or curtain. You can also use cures such as wind chimes, mirrors, trees or stones to deflect "sha qi".
Other than decorating according to feng shui principles, you should also keep your home and its contents safe with home content insurance.
By Joanne Poh
Disclaimer: All info contained herein is intended for your general information only and is not a substitute for insurance advice. If you have a specific question, please consult our insurance experts at 6702 0202.