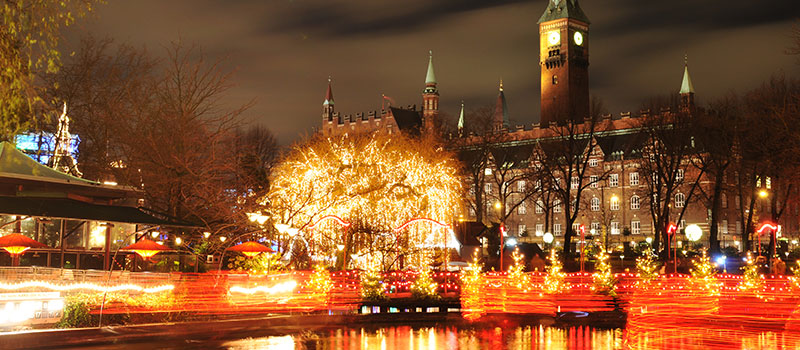 Anyone who grew up in Singapore remembers heading to Orchard Road during the Christmas season to admire the magnificent lights and decorations lining the shopping belt.
But Singapore is far from being the only place in the world with impressive Christmas lights.For those thinking of heading overseas over the December holidays, here are some destinations that play host to mind-blowing Christmas light displays that will put you in a festive mood.
Tokyo, Japan
Tokyo never fails to impress with its over-the-top exuberance, and the same is true at Christmas. You're spoiled for choice as most of the city's major districts go all out with their winter decorations.
One of the most dazzling locations by far is the Caretta Shiodome, which has a reputation for being home to Tokyo's most impressive light-up each year. It is a shopping and dining hotspot, and home to the Advertisement Museum Tokyo. There is also a Sky View observation deck on the 46th floor which is free to enter and offers incredible views over Tokyo Bay.
The massive shopping mall in Minato-ku pulls out all the stops each year with extremely dense and intricate light displays. In 2017, be treated to a show that takes place every 20 minutes and will have you spellbound by about 250,000 LEDs.
When: 16 Nov 2017 to 14 Feb 2018, 5pm to 11pm
Where: 1 Chome-8-2 Higashishinbashi, Minato, Tokyo 105-7090, Japan
London, United Kingdom
London comes alive in December, with Christmas markets and outdoor ice skating rinks generating a festive mood.
The competition is fierce, but the awe-inspiring Christmas light displays at the UNESCO World Heritage-listed Kew Gardens, also known as the Royal Botanic Gardens, are undoubtedly some of the city's best.
The sprawling, perfectly manicured gardens are transformed after dark by more than a million lights. Heritage trees and historic buildings come alive in a dizzying melange of color. A Christmas fairground and North Pole Village, complete with Santa and his elves, will delight families with kids.
Tickets must be purchased on the Kew Gardens' website for your preferred date of entry. An adult ticket costs 18.50 GBP (33.20 SGD).
When: 22 Nov 2017 to 1 Jan 2018 from 5 pm onwards
Where: Kew Gardens, Royal Botanic Gardens, Kew, Richmond, TW9 3AE United Kingdom
Lyon, France
Forget Paris. France's third biggest city, Lyon, hosts an annual Festival of Lights that is considered France's most impressive light display.
For four nights, light displays created by various artists illuminate buildings, parks, squares and streets all over the city. The most iconic of the displays can be found at Basilica of Notre-Dame de Fourviere, a church building that gets bathed in a kaleidoscope of lights.
In the daytime, seize the chance to explore the beautiful city of Lyon, which is known as France's capital of gastronomy and whose historic site is UNESCO World Heritage-listed.
When:
7 Dec to 10 Dec 2017
Where:
8 Place de Fourvière, 69005 Lyon and all over the city center
Hong Kong
Hong Kong's inimitable city skyline, which lights up Victoria Harbour all year round, becomes even more eye-catching over the festive season when Christmas light displays adorn the buildings' facades and a spectacular multimedia show turns the harbour into a futuristic symphony of color and light.
In 2017, the light show will be accompanied by a soundtrack courtesy of the Hong Kong Philharmonic Orchestra, and some of the modern world's most iconic buildings will form a backdrop for state-of-the-art lighting effects that promise to beguile and bedazzle.
In the daytime, visitors will have yet another excuse to shop at Hong Kong's bustling markets and in its glitzy malls, enjoy sumptuous dim sum spreads and scale the Peak.
When:
1 December 2017 to 1 January 2018
Where:
Victoria Harbour, 18 Harcourt Rd, Admiralty, Hong Kong
Buy travel insurance
Before embarking on your holiday, protect yourself with a great travel insurance policy so you and your travel companions can enjoy the Christmas season to the fullest!
By Joanne Poh
Disclaimer: All info contained herein is intended for your general information only and is not a substitute for insurance advice. If you have a specific question, please consult our insurance experts at 6702 0202.