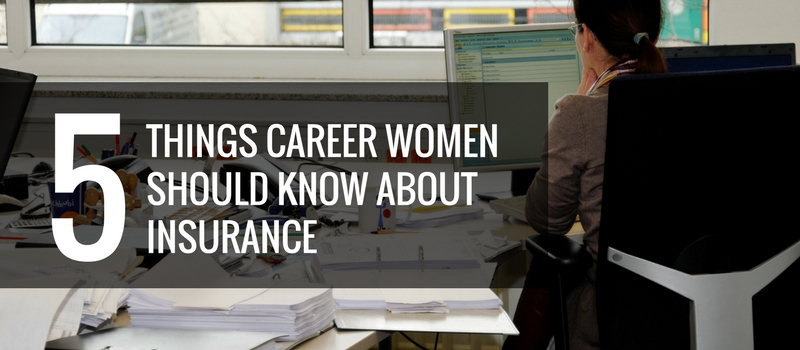 Being a career woman has become the norm in Singapore. And yet, many of these women must also play their role as mothers and childbearers.
How can the modern Singaporean woman successfully juggle the demands of being a superwoman both at home and in the office? The answer lies in staying strong and healthy and making sure you have the necessary financial coverage to cope with various needs.
1. Premiums Are Lower for Women
If you've made the tough decision to work while raising children, financial considerations probably factor into it. The good news is, the insurance industry will cut you a break here. All things being equal, women generally pay less for insurance premiums than men, and there are several reasons for this.
Men are more likely to be involved in risky occupations such as serving in the uniformed or armed forces or working in physically demanding environments. And when they are not risking life and limb at work, they are more likely to do so during their past times with dangerous sports and hobbies.
Another reason that contributes to men paying higher premiums is that men are more likely to indulge in unhealthy habits, such as drinking and smoking, which lead to alcoholism and other health problems.
2. Women's Insurance Include Health Check-ups
Having adequate health insurance is essential, but staying healthy is still the best and most important goal.  Apart from a balanced diet, regular exercise, adequate sleep and controlling your stress, having regular checkups is crucial. Granted, prevention is better than cure, but early detection is the next best thing. Being a woman actually puts you at an advantage here.
Unlike general health insurance plans, many women's health plans include regular health check-ups. Important procedures such as mammography and Pap smears are also covered. For a busy career woman like you, having a health insurance plan that comes with check-ups will make it easier for you to stay on top of both your career and your health.
You'll be more motivated to actually go for an appointment, knowing that the check-up is already paid for. And, if the doctor suggests extra assessments and tests, just to be doubly sure, you can freely proceed without worrying about high costs.
3. Women's Insurance Plans Cover Gender-specific Conditions
Another advantage of signing up for a woman's health plan is the extra cover and benefits provided for diseases and conditions specific to your gender. While a hospital plan provides benefits for say, cancer, and its treatment, having a women's health plan can provide an additional layer of security.
For example, let's say you had to have a lumpectomy (removal of a lump from the breast). Under a general hospital plan, the costs of your surgery and hospital stay would be covered. But with an additional women's plan that covers this specific condition, you would receive an added benefit on top. You can use this additional payout to pay for health supplements, rehabilitative classes, or even a short holiday to help you better recuperate.
4. Pregnancy Plans are Affordable and Helpful
Women who are planning to start a family can tap into their Medisave to help pay for the costs of childbirth. However, there is a limit to how much you can claim: Up to S$1,650 for normal childbirth, and S$3,500 for Caesarean births. A check with the Ministry of Health website will tell you that the costs of childbirth in Singapore far outstrip these limits.
Trying to juggle starting a family and your growing career is difficult enough without having to worry about childbirth hospital bills. It's a good thing, then, there are pregnancy insurance plans that will help defray your costs. Pregnancy or maternity plans are a special kind of health insurance plan that is tailored to meet the needs of expectant mothers and their newborns.
These plans cover not only hospital stays and childbirth (whether natural or Caesarean), they also reimburse you for doctor's visits and pregnancy check-ups. Additionally, pregnancy plans also provide cover for complications that could arise from pregnancy and childbirth and also furnish a death benefit for mother or child.
Many pregnancies plan also automatically transfer their coverage from mother to child, and ensure the newborn against health conditions, doctors visits, and immunizations, etc. up till 3 years of age.
With the scope and depth of coverage provided, you're probably expecting pregnancy plans to be costly. But that's not the case at all. A comprehensive pregnancy plan can be bought for as little as a few hundred dollars.
5. If Your Work Involves Travel, Don't Skimp on Travel Insurance
One of the worst things that can happen is to get injured overseas, in a country with high medical costs. The cost of fixing a broken leg in the United States, for example, is close to SGD$50,000(!) If you're a career woman with children, the last thing you need is to be saddled with this sort of financial debt.
If your company doesn't provide comprehensive travel insurance, then don't skimp on it – be sure to get a travel insurance policy of your own. This will ensure you get a sufficient pay-out if you must be flown back to Singapore for treatment. And if you have children, chances are you will want to come home, rather than stay in a foreign hospital for weeks.
By Ryan Ong
Disclaimer: All info contained herein is intended for your general information only and is not a substitute for insurance advice. If you have a specific question, please consult our insurance experts at 6702 0202.