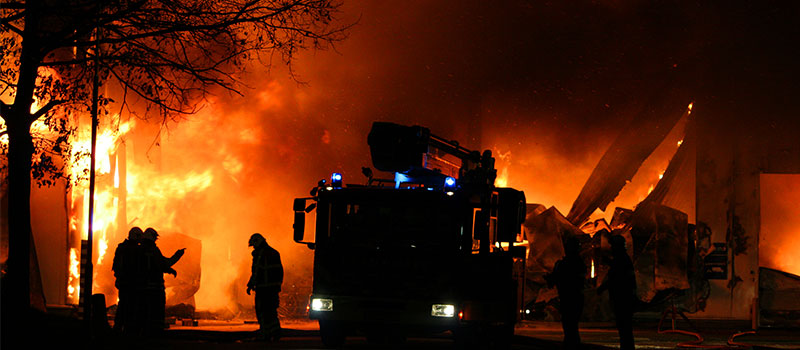 Fires are thankfully rare in Singapore; but still, the Singapore Civil Defence Force (SCDF) responded to 2,818 fires last year.
It's quite clear that house fires are a real threat; and in fact, one of the fire fatalities last year was from a residential unit (Hume Avenue). Here are some of the painful lessons in store, if your house ever catches fire:
1. You might realise your house caught fire despite your perfect safety record
You can be the most careful person in the world, and yet still see your house (or maybe one or two rooms of your house) burn down. How so? The answer is your neighbours. Many Singaporeans will proudly explain how they switch off all electrical devices, never leave the stove on, keep flammables out of the bins, and so forth.
That's all very commendable, but the bad news is that fire spreads. All it takes is for a careless neighbour to leave, say, a battery to get overcharged. The next thing you know, the fire has spread from their living room to yours. This underscores the importance of proper home insurance. We're sure you're careful, but you need to protect your home from people who aren't.
2. Right after a fire, you'll learn that storage fees in Singapore are steep
Right after a fire, your first question will be "where do I put all my stuff?" If your living room needs to be repaired and refurbished, for instance, where are you going to put the cadenza, sofa, and coffee table that survived? If you have a smaller home, such as a three-room flat or smaller, this could be outright impossible.
There are warehousing solutions, but they're not cheap. A simple self-storage locker (say 1 metre x 1 metre x 1 metre) can cost you between $35 to $45 a month. Storing larger pieces, such as surviving furniture or television sets, might cost up to three times and more. On top of this, you need to consider that many self-storage services don't include insurance.
You may have to pay extra for that. Home Protect360, a home content insurance policy from HL Assurance, can cover up to $45,000 in storage costs (to a maximum of 30 days). This can mitigate some of the costs, and will be helpful given the huge repair bills you're already facing.
In addition, Home Protect360 provides a home concierge service, to help you contact qualified plumbers, electricians, and locksmiths that you may shortly need. You can apply for it in minutes, and for a limited time you'll shave 15 per cent off your premiums.
3. Cleaning up the mess is not free, and it won't be done for you by the authorities
After a bad fire, the affected rooms contain a lot of debris. Melted plastics, burned wood and textiles, and broken glass are all common. Some Singaporeans mistakenly believe the government will mobilise an army of cleaners, to come and fix it for them. Sadly, that's just wishful thinking.
Debris removal is up to the home owner, and it's not free. Fees have been known to run into thousands of dollars; it all depends on how much work is involved. That's why home contents insurance is important:  Home Protect360 can cover up to $20,000 in debris removal costs. Note: never try to dispose of debris, such as burned wood, down the rubbish chute. This can result in massive fines, especially if you choke your block's rubbish chute by trying to cram all the debris in it.
4. Your friends and family are probably less accommodating than you think
You'll need somewhere to stay while your house is being fixed up. Most Singaporeans will balk at the cost of staying at a hotel. That can come to at least $200 a night for a decent room, big enough for the family (and that's a low estimate). If you don't have home insurance, you'll probably have to stay with friends and family.
This is where you – along with your hosts – are likely to test the limits of patience. Having four extra people, in a house with two toilets, is not an enviable living arrangement (expect to be late for work in the morning). And while it may be fun to live together for a few days, things will probably get uncomfortable after the first two weeks.
Hopefully, your contractor works fast! If you have home insurance, you might be able to claim for alternative accommodations (check with your insurer). That could mean a more comfortable option, such as an approved hotel. At HL Assurance, Home Protect360 provides up to $45,000 for alternative accommodations, for up to 30 days.
5. Things mysteriously go missing after you move back in
One last lesson you'll learn is that things inexplicably vanish. Little things like earrings, your favourite book, pairs of shoes, and so forth might disappear, never to be seen again – even if you're dead certain you packed it away after the fire. These items are most commonly lost in the moving process.
They get left behind at temporary accommodations, fall into a corner at a warehouse, or are so thoroughly hidden under clothes, carpets, lighting fixtures, etc. that you don't find them until years later (if ever). It's important to separate valuables, such as jewellery, watches, or sentimental items, and keep them in a place visible to you.
By Ryan Ong
Disclaimer: All info contained herein is intended for your general information only and is not a substitute for insurance advice. If you have a specific question, please consult our insurance experts at 6702 0202.