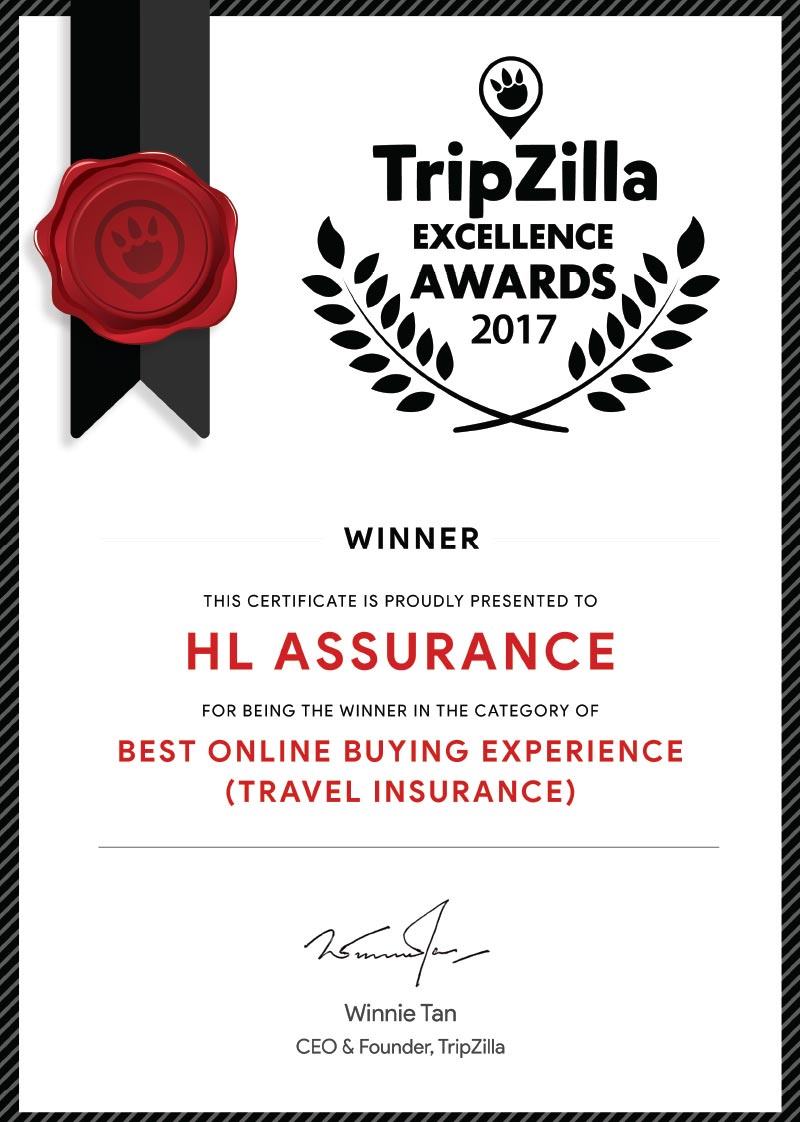 HL Assurance is proud to announce its latest win, Best Online Buying Experience (Travel Insurance), at the prestigious TripZilla Excellence Awards 2017. The annual Award honour the industry's best travel companies and organisations for service excellence and outstanding business practices for bringing innovative online platforms on Travel Insurance to consumers.
Being conferred the title of Best Online Buying Experience (Travel Insurance) affirms HL Assurance as a market leader that has set the benchmark to which all others aspire. The Award also represents an endorsement of HL Assurance by TripZilla, a leading digital travel media in Southeast Asia that reaches more than 25 million travellers every month.
The Best Online Buying Experience (Travel Insurance) title is testament to HL Assurance's products/services/offerings. HL Assurance understands the need to adapt to the changing customers expectations in e-commerce in this evolving digital age.
With the seamless integration of the online portals and excellent user experience, customers are able to receive instant online quotations and directly purchase Single Trip and Annual Travel Protect360 Plans with just a click.
For more information on the Tripzilla Excellence Award 2017, visit: https://www.tripzilla.com/tripzilla-excellence-awards-2017-winners/69805
About HL Assurance
HL Assurance is a member of Hong Leong Group, a leading conglomerate with diversified businesses in banking and financial services, manufacturing and distribution, property development and investments, hospitality and leisure, and principal investment with presence in Asia, Europe, North America and Oceania. We are a licensed general direct insurer and also a member of General Insurance Association in Singapore.
Our products are designed in business owners and consumers' mind to provide a comprehensive coverage that suit our customers' needs. Find out more about our product range such as Travel Insurance, Car Insurance, Mobile Phone Insurance, Small Medium Enterprise Insurance, and Workmen Compensation Insurance at www.hlas.com.sg.