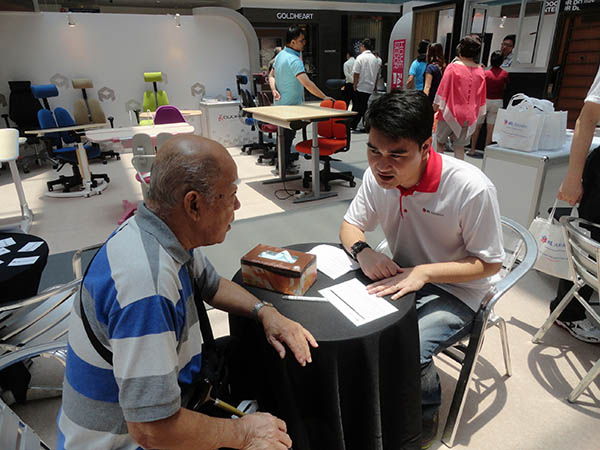 Some roads was choked off by Singapore Formula 1 Pit last week but didn't stop over a thousand visitors from visiting the inspired Home & Décor Fair 2014 at Marina Square Shopping Mall – Level One Centre Atrium.
Together with other exhibitors, we put up a host of activities and showcased our general insurance products, particularly Home Contents Insurance to take care of their home contents in times of uncertainties.
About 2000 visitors at our booth, also received exclusive promotion on Home Contents Insurance and a speciality made goodie bag, which can be recycled to use as a shopping bag. Other visitors were treated to a dose of fun during the event as they challenged the familiar Nokia game – "Memory Game".
Participants won themselves travel kit or micro fibre cloth when they successfully opened all pairs of matching cards within a minute.  Many visitors who circled around our booth was a learning experience as our underwriter, Aik Seng highlighted the importance of Home Contents Insurance.
Home Contents Insurance is meant to protect the homeowner against accidental loss or damage to their household goods and valuables when break-in, robbery or food spoilage occurred.
The unprecedented success of this event would not be possible without you. Our team spirit at the three days event was high because of your presence. Thank you for those who visited our booth and browsed our products.