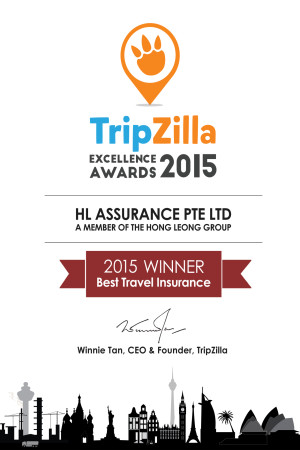 Our Travel Insurance has won Best Travel Insurance of the year 2015 in the category of Best Travel Insurance of Tripzilla Excellence Awards 2015.
Our Travel Insurance is designed in the minds of travelers and their traveling needs. Our experienced team recognizes the importance of understanding consumer's needs and constantly evaluates how we can tailor the services to you while keeping the costs low. The arrays of our Travel Insurance plans focus on providing the right travel insurance coverage and the right premium to you.
Speaking at the awards, the CEO and founder of Tripzilla, Winnie Tan said that the Best Travel Insurance 2015 awards were presented to HL Assurance that met the four criteria set in the Tripzilla Excellence Awards 2015: "Most Outstanding Travel Companies and Outstanding", "Excellence in Service", "Innovative Travel Experiences and "Innovative Business Practices".
Getting insurance coverage for your trip just got easier as HL Assurance also provided a quick and convenient way to purchase travel insurance online 24/7.