Singapore is not just a foodie's paradise, it is also a city that never sleeps. This means that no matter when the hunger pangs might strike, there are always restaurants, cafes and hawker stalls ready and waiting. For those who are embarking on a trip and headed to Changi Airport to catch their flights, here are 11 eateries in the area that are open till midnight and beyond.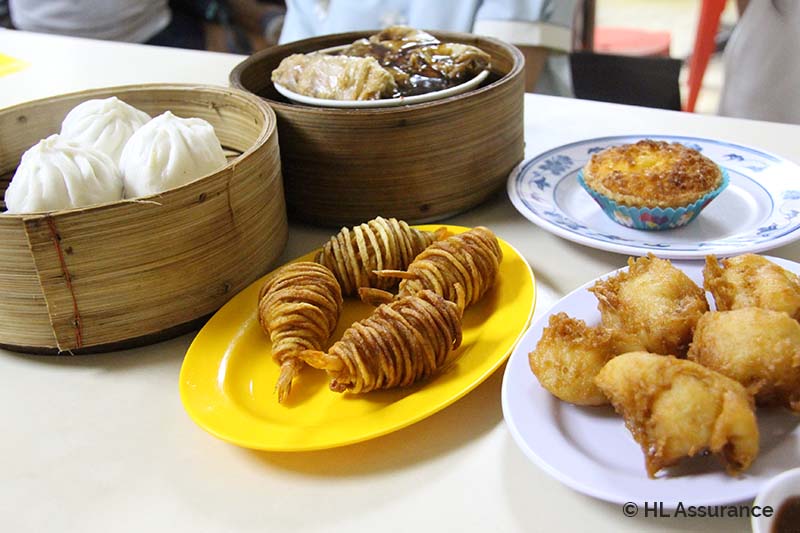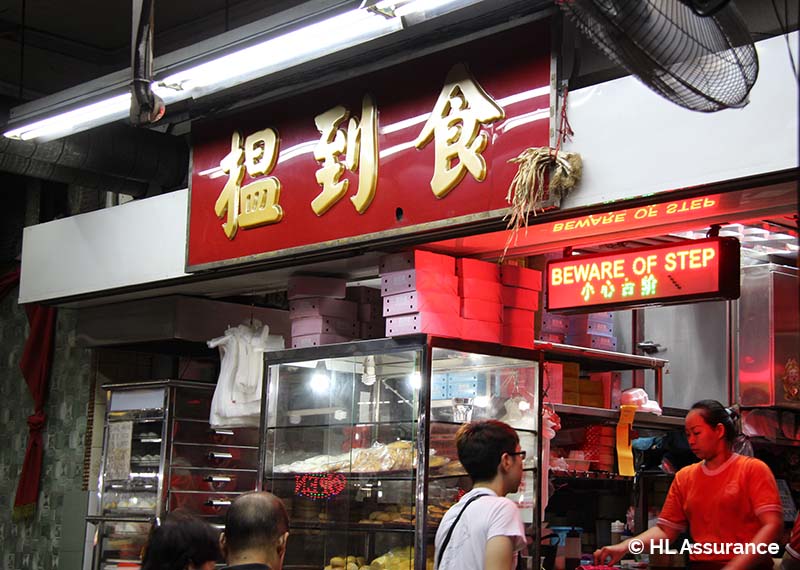 126 Dim Sum Wen Dao Shi
126 Sims Avenue Singapore 387449
This modest looking restaurant serves up an authentic Hong-Kong-style dim sum at affordable prices. Their Thai-Style Fried Crab Dong Fen and King-Sized Siew Mai are the highlights. There are also several unique items on the menu you won't find at other dim sum restaurants, such as Herbal Chicken bun, Fried Scallop, and Kimchi Beef Roll. The airport is just a 20-minute taxi ride away.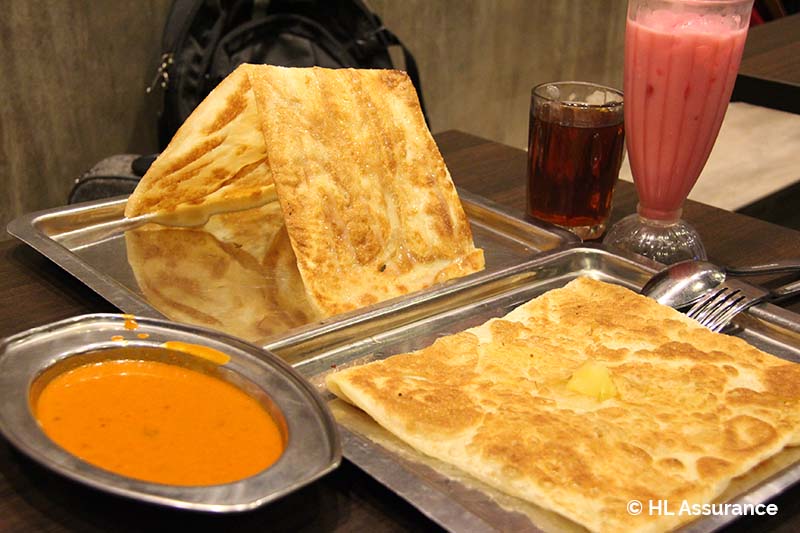 Springleaf Prata Place
1 Thong Soon Avenue Singapore 787431
7 am to 12 midnight
There are many good rata eateries in Singapore, but Springleaf Prata Place has the distinction of being one of the most consistent. Apart from the usual Prata offerings, they also offer unusual specialty Prata flavors including Special Paper Prata, Tomato, Red bean, Hot dog and Chocolate. They also have an extensive Thosai menu, including Egg Masala Ghee, Egg and Chili and Uthapam.
New Mahamoodiya Restaurant
335 Bedok Road Singapore 469510
24 hours
When Singaporeans head out for supper in the dead of night, more often than not they head to an Indian eatery for a hearty meal of Prata, washed down with an iced Milo. New Mahomoodiya Restaurant in Bedok is less than 15 minutes away from the airport by taxi. Don't be surprised if you find it buzzing with customers even at 3 am. Other than the Prata, recommended dishes include their Murtabak and Nasi Goreng.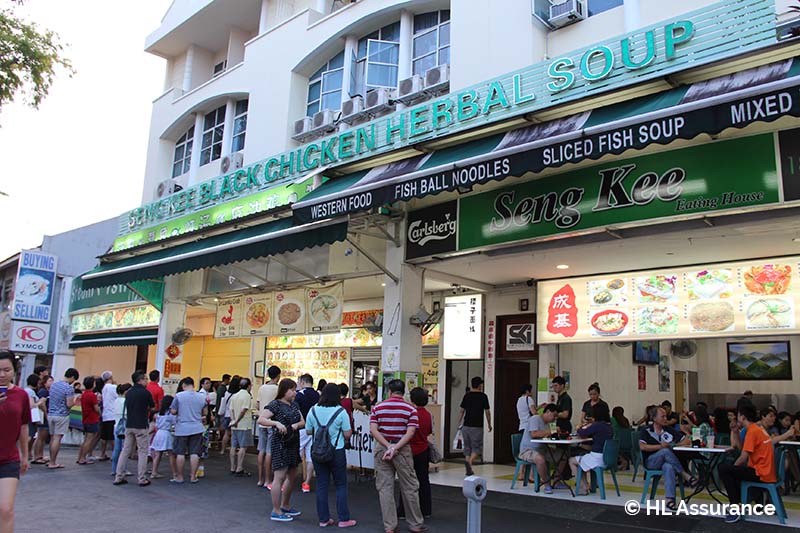 Seng Kee Black Chicken Herbal Soup
467 Changi Road Singapore 419887
11 am to 4 am
Seng Kee has become famous for its big bowls of Mee Sua in thick, aromatic soup. This stall also serves traditional Zi Char or Chinese-style dishes to be shared between friends. Their Crab Bee Hoon, Salted Egg Prawns, and Prawn Paste Chicken are highly recommended.
Brotzeit German Bier Bar & Restaurant
126 East Coast Road Singapore 428811
11 am to 12 am daily
Singapore is home not only to amazing local food but also cuisines from just about anywhere in the world. Brotzeit is known for their hearty German fare and craft beers. If you are in a group, tuck into one of their platters, which will enable you to sample a large spread of Sausages and Ribs or Veal Goulash. The restaurant is located about 15 minutes from the airport by taxi.
The Bark Cafe
1000 Upper Changi Road Singapore 507707
11 am to 12:30 am (Mon to Thu), 11 am to 1:30 am (Fri to Sat), 11 am to 12 midnight (Sun)
Nestled amidst luscious greenery just beside the Changi Chapel Museum, The Bark Cafe enables you to escape the hustle and bustle of city life while tucking into hearty mains like Beef Stew, Chilean Cod, and Japanese Saba. The cafe is located less than 15 minutes away from the airport by taxi.
Changi Village Hawker Centre
2 Changi Village Road Singapore 50002
Many stalls open 24 hours
Whether you are a visiting tourist or a local coming home, there is no experience quite like sitting down to a spread of authentic local hawker food. Changi Village Food Centre is home to many 24 hour stalls, including Mizzy Corner Nasi Lemak at #01-26, which is famous for serving up fragrant coconut rice and generous servings of Chicken Wings, Egg, and Sambal Chili.
Han's Cafe and Cake House
850 New Upper Changi Road #01-21 Bedok Community Centre Singapore 467352
24 hours

Han's Cafe is one example of a truly home-grown brand. The first Han's Cafe opened in 1980, and there are now more than twenty outlets. The menu features simple but satisfying fare including local favorites like stir Fried Beef Hor Fun, as well as local interpretations of Western-style dishes like Pork Chop Chicken Chop and Fish and Chips. The cafe is about 15 minutes away from the airport by cab.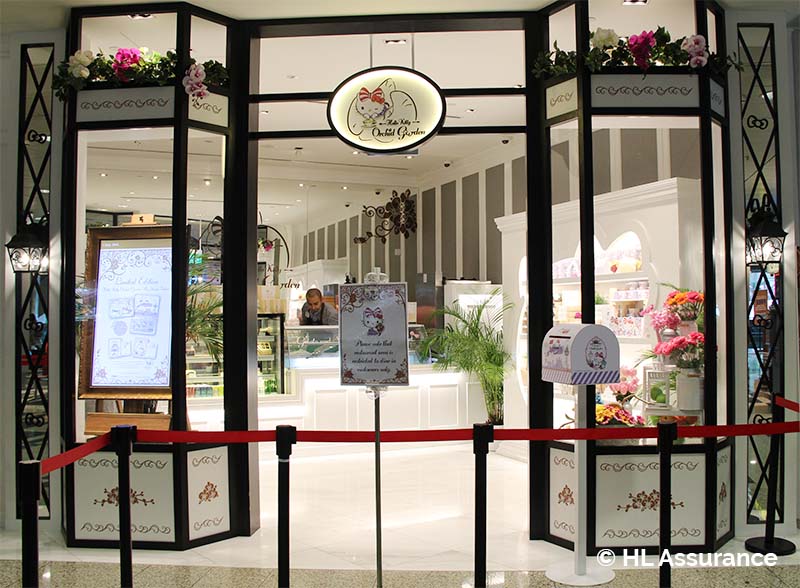 Hello Kitty Orchid Garden
Level 1 Terminal 3, Public Area, Singapore Changi Airport
24 hours
This 24-hour Hello Kitty cafe opened to much fanfair, and Singaporeans from all over the island have flocked to Changi Airport just to get their fill of kitsch. Enjoy sweet treats such as Waffles and Gelato Sundaes, all decorated to delight Hello Kitty fans.
Some highlights include their famous Rose I Love You, consisting of ice cream molded into the shape of a rose atop a chocolate sponge cake, the Land of the Rising Kitty pasta, Japanese-style Teriyaki Chicken Spaghetti, and Cowabunga Wagyu, a novel interpretation of Beef Rendang. Hello, Kitty fans will jump at the chance to snap pictures of the Kitty-themed décor.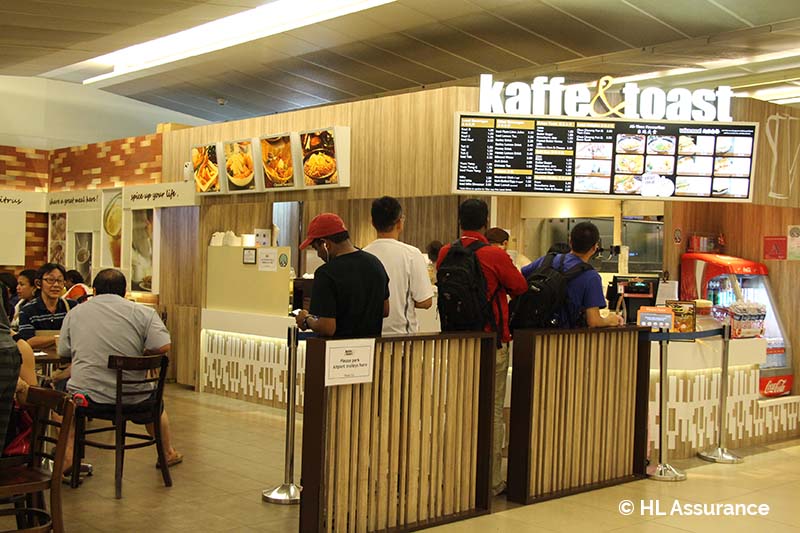 Kaffe and Toast
Level 2 Terminal 1 / Level 1 Terminal 2, Public Area, Singapore Changi Airport
24 hours
This halal-certified cafe specializes in Malay, Chinese and Indian specialties like Mee Siam, Chicken Curry, Laksa and Nasi Lemak, all at affordable prices. While the cafe is open round the clock, the best time to visit tends to be early in the morning when the food is freshest and you can enjoy a morning kopi.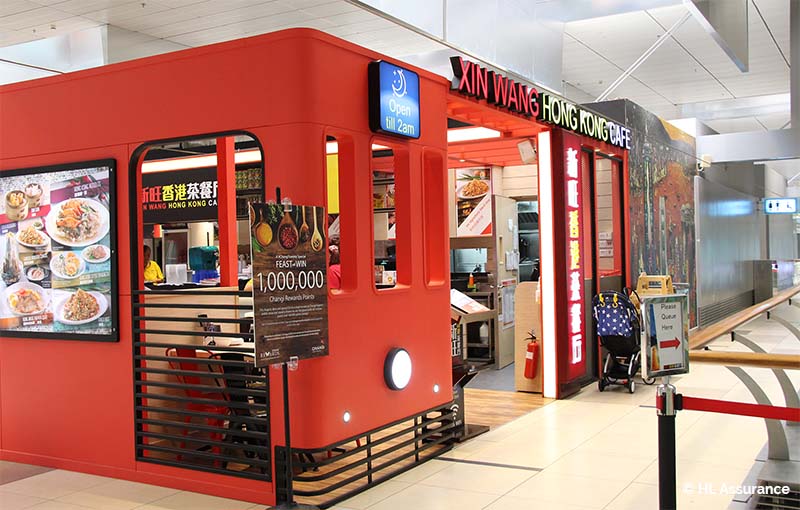 Xin Wang Hong Kong Cafe
Level 4 Terminal 3, Public Area, Singapore Changi Airport
10 am to 2 am (Mon to Fri), 9 am to 2 am (Sat, Sun, and PH)
Most jetsetters should be familiar with Hong Kong's legendary cha chan teng or traditional cafes. Tuck into classics like thick toast, instant noodles with a slab of luncheon meat and Hong Kong-style milk tea.
HL Assurance values your entire travel experience. If you realized you haven't gotten comprehensive travel insurance while having a nice supper, you can easily get travel insurance from the HL Assurance website with just a few clicks before boarding on the night flight or night coach. Then an SMS travel policy confirmation will instantly send to your mobile phone. Having greater peace of mind for your trip is so simple!
By Joanne Poh

Disclaimer: All info contained herein is intended for your general information only and is not a substitute for insurance advice. If you have a specific question, please consult our insurance experts at 6702 0202.