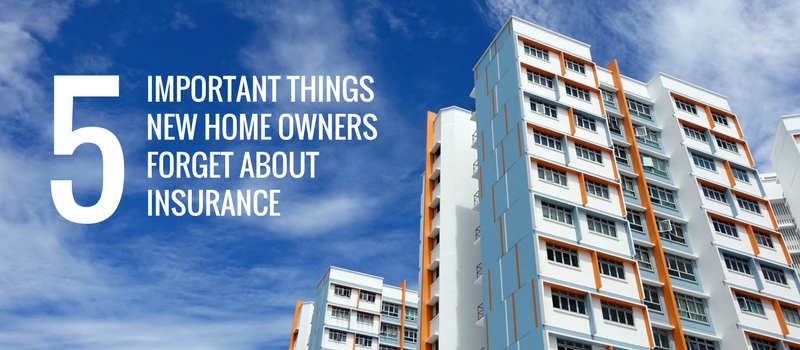 Buying a new home is a complex process, and involves plenty of form-filling, credit requests, and loan comparisons. In the midst of all the bureaucracy, it's easy to forget about insurance. As your home is the most expensive thing you'll probably buy, don't forget to protect it with the right policies. Here's what most new homeowners forget:
1. Basic fire insurance doesn't help if your neighbors are affected
It's a mistake to think basic fire insurance – which is mandatory – is enough protection. You have to consider that, if an accidental fire starts in your house, your neighbors could be affected as well. If it's then determined to be your fault (e.g. the fire started in your kitchen), your neighbors can hold you liable for damages.
Don't underestimate how devastating the cost can be. If your neighbor has spent $50,000 on interior design and loaded her home with high-value artwork, you could end up being sued for the entire value of it. Also, remember that fire isn't the only concern. If there's a leak in your neighbors home that damages their property, and it's due to your damaged pipes or renovation work, you could also be liable. An insurance policy can't help you win any court battles, but it can pay off your neighbor's damages.
With a comprehensive home insurance policy, such as Home Protect360, you get personal liability insurance of up to $500,000. This covers legal liabilities for damages to property, or injuries, caused by you if you're deemed negligent. While we're sure you're responsible, it's best to be safe.
2. If you keep a lot of money or jewelry in the house, you're taking a big risk
While Singapore's crime rate is low, it's not impossible for burglaries to happen. There were 84 cases of housebreaking in the first half of this year; while this is a decrease from 2016, the police have still warned homeowners to be cautious. The risk is especially high for dual income families – if you and your spouse both need to be at work, your home will be left unoccupied for long periods.
Burglars often prefer to target such houses, and may spend weeks observing a single block to spot these homes. Do consider buying a CCTV camera, if your home is totally unoccupied for half the day. Another precaution is to get home contents insurance.
Home Protect360 can cover up to $5,000 for theft of valuables like watches or jewellery, and up to $2,500 for theft of cash if the home shows signs of violence and forcible entry or exit (for items of much higher value, such as gold bars, it's advisable to store them in the bank rather than at home).
In addition, don't forget you'll need to replace your locks and windows after a burglary. Home Protect360 can cover up to $2,000 worth of replacements for locks and windows.
3. When the power goes out, you could lose most of your groceries
Plenty of new and old homeowners overlook this. It's possible for the circuit breaker to trip when you're not at home. This could cut power to the refrigerator, and cause food in the freezer section to spoil (this is why you should try to clear out any easily spoiled foods if going on vacation for longer than two days).
As most families store about a month's worth of groceries in the fridge, this could lead to several hundred dollars' worths of spoilage. Home Protect360 can cover up to $1,000 worth of damages, should this happen. As an aside, you'll need to completely disinfect the freezer compartment, as well any areas where you've stored meat or fish.
It's highly advisable that you call in a professional cleaner, as lingering bacteria can spread to new products and cause serious illness.
4. If you buy a private property, never skip on Mortgage Reducing Term Assurance
Many insurance companies offer Mortgage Reducing Term Assurance (MRTA). This insurance policy will pay out the remainder of your home loan, should you die or be unable to work. As most homes have co-borrowers (e.g. you and your spouse), be aware that the burden of servicing the entire home loan could fall on your loved ones, if you're no longer around to deal with it.
This could add stress to the family, who may already be dealing with your loss or disability. Owners of HDB flats have the Home Protection Scheme (HPS) by default, but private property owners must seek out a good MRTA plan on their own initiative. Don't simply pick the first policy you come across, however – the premiums and offers change all the time, so be sure to compare. (Many financial advisers can do the comparison for you if you're too busy).
5. If you are getting renovations done, ensure your contractor has valid insurance
If your contractor damages your home by accident (or worse, damages your neighbor's home), it is not claimed from your own insurer. Rather, the damage is claimed from your contractor's insurer. While most professional contractors are required to buy insurance, you need to be wary of those who allow their insurance to lapse.
You also need to be careful when using "unofficial" contractors, such as handy-men or part-timers who don't belong to any company. An uninsured contractor may be unable to pay you for the damage they cause. This can lead to fruitless legal battles (they may not be able to pay you even if you win the case), as well as the distress of having to live with, say, a non-functioning toilet. It's always best to engage a professional, as your own insurance doesn't help with your contractor's mistakes.
You can solve most of your insurance needs in just a few clicks
You can apply for home contents insurance here, and get approved in just a few minutes. On top of protecting you, Home Protect360 offers a home concierge service – you don't need to worry about hiring plumbers, electricians, locksmiths, etc. who aren't qualified; we'll send only genuine professionals to your door.
By Ryan Ong
Disclaimer: All info contained herein is intended for your general information only and is not a substitute for insurance advice. If you have a specific question, please consult our insurance experts at 6702 0202.