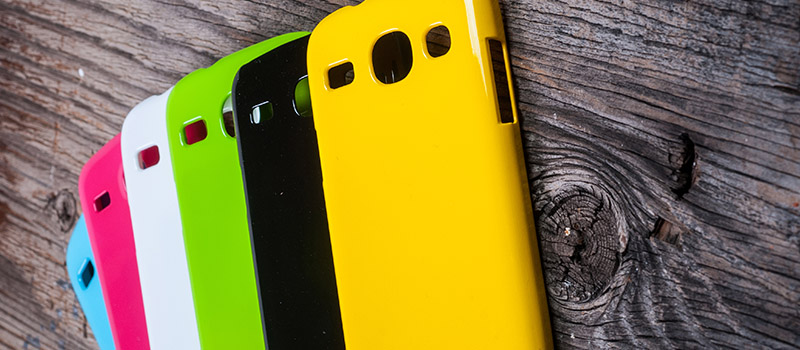 So you've spent hours queuing for that brand new smartphone, and now it's time to look for a phone cover to keep it safe, free from scratches and protected from harm.
While you're at it, why not choose one that looks great, too? Here are ten awesome phone covers to choose from, starting from the price of $12.70.
For the fashionista: Kate Spade chevron cream silver glitter hardshell case (for iPhone 7+)
The girl about town needs a phone case that will match her every outfit as she Instagrams photos of herself about town and texts her friends about their next get-together. This case from Kate Spade is subtle enough to complement any outfit but still stands out with its glittery chevron pattern.
Buy it online:Harvey Norman ($59)
For the nature lover: Monstera iPhone 7 casing (for iPhone 7)
This iPhone case is a breath of fresh air with its striking leaf print that will have even the most jaded city dweller feel like he's escaped the concrete jungle—at least until he's finished sending that text. The case is relatively soft, which makes it effective in protecting your phone from falls.
Buy it online: Cat Socrates ($19)
For the foodie: Emaley nigiri sushi pattern case (iPhone 6)
This adorable plastic case is adorned with a cheery sushi print that will have you picking up your phone to make reservations at your favourite Japanese restaurant more often than you might like. The artwork wraps around the sides and edges of your phone, which makes it an even more delightful sight.
Buy it online: Naiise ($29)
For the hippie: Mandala wooden case (iPhone 6/6S/7/7+/8/8+)
Do you find yourself spending all your downtime at yoga classes? Have you been known to meditate to stay sane? And do you believe the universe works in mysterious ways? Then this handmade wooden iPhone case with its "om" sign encased in a mandala will help you find your inner zen.
Buy it online: Etsy ($33)
For the clumsy one: OtterBox Defender case (Samsung Galaxy Note 8)
If you have butter fingers and often find yourself praying that you've not cracked the screen of your phone, opt for a case that offers extra protection. OtterBox's Defender phone cases are composed of a solid inner shell as well as a resilient outer slipcover that will keep your phone in one piece no matter how much you manhandle it.
Buy it online: Lazada ($89.90)
For the gentleman: Man & Wood Acorn case (Samsung Galaxy S4)
One look at this stylish Android phone case, and you can almost whiff the musky scent of cologne. This case, made of genuine textured wood, is made in Korea and feels as good as it looks.
Buy it online: Mobyshop ($12.90)
For the travel junkie: Wanderlust phone case (iPhone 5C/5/5S/SE/6/6+/6S/6S+/7/7+/8/8+/X and Samsung Galaxy S5/S6/S7/S8)
Are you always dreaming of far-off places and planning for your next trip? Then this lovely phone case with its wrap-around art and beautiful world map print will inspire you to go where no man has gone before. The hard case is made of flexible plastic.
Buy it online: Plus Minus ($59.90)
For the fuss-free type: Olixar genuine leather XL wallet case (Microsoft Lumia 950 XL)
Hate carrying bulky wallets around or having to rummage through the contents of your bag each time you need to pay for something? This lightweight phone case made of genuine black leather doubles up as a wallet, with slots for credit cards, cash and documents.
Buy it online: MobileFun ($29.90)
For the busy professional: Encase rotating 5.5 inch leather-style universal phone case (Suitable for Apple, Android and Microsoft phones)
This phone case is as practical as it is stylish. The leather-like case, which wraps around your phone to protect your screen, also contains credit card slots and can be folded to prop your phone up, too.
Buy it online: MobileFun ($14.99)
For the young and young at heart: ZakkaSG x Despicable Me Minions jailbreak mugshot phone case (iPhone 6/7+)
Whether you are a bright-eyed, bushy-tailed student or just refuse to grow old, this adorable Despicable Me phone case will put a smile on your face.
Buy it online: ZakkaSG (12.70)
Buy Mobile Insurance
Your mobile phone is an extension of yourself. Protect it not only with a good phone case, but also a mobile phone insurance plan that will not just take care of repairs at your doorstep but also offer a replacement if your phone gets damaged.
By Joanne Poh
Disclaimer: All info contained herein is intended for your general information only and is not a substitute for insurance advice. If you have a specific question, please consult our insurance experts at 6702 0202.